Bloomberg Launches App for RNC & DNC Convention Attendees

Free app provides ticket exchanges, calendar of events and Yelp reviews.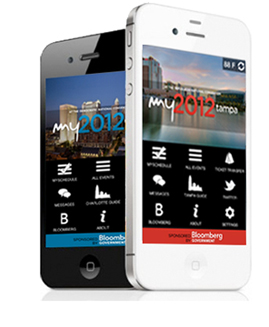 Bloomberg Government, a division of Bloomberg L.P. that provides a subscription-based, online tool that collects data and provides reporting from the company's team of analysts worldwide, has produced an app in conjunction with Event Farm for attendees of the 2012 Republican and Democratic National Conventions.
The free apps—my2012Tampa and my2012Charlotte—provide a variety of functions for both convention attendees and event planners. The app, which will be available the last week of July, is compatible with iPhones, iPads, Android and BlackBerry devices and can be downloaded from the iTunes, Android and BlackBerry App stores. Bloomberg Government is supplying the app as a way to heighten its exposure and presence at the convention for all parties in attendance.
"There's going to be a bunch of mobile apps available at the convention, there's no doubt about that," says Don Baptiste, head of Bloomberg Government. "We were trying to find a way to cut through the clutter and make what we did standout."
The app allows for the distribution and exchange of tickets. Convention
planners can distribute tickets to official convention events, and
private event planners can distrubte tickets which attendees can then
swap or share. Bloomberg Government will reach out directly to event planners ahead of the conventions to alert them the free app exists to help them with their ticketing needs. Through this single platform, event planners can sell tickets, distribute tickets for an individual only, distribute a block of tickets to a sponsor (who can then redistribute them), or allocate tickets for named individuals.
With the app, event planners can also develop a custom branded registration system for guests, track RSVPs in real time, issue invitations electronically and check-in guests. A calendar of events—those that happen outside of the convention as well as convention related events—comes standard with the app, and attendees can manage their own personal event calendar and transfer extra private event tickets to friends and colleagues.
"What Bloomberg is going to do around the convention from both a news and multi-media standpoint, as well as Bloomberg Government, we'll have unique content that we think will be second to none," says Baptiste. "Bloomberg is the second largest news organization in the world and it's leveraging that entire news team to provide a robust and comprehensive set of data. Bloomberg Government brings a different set with a deep analysis of government actions and business implications, which gives a unique hook to the Event Farm application."
A news feed is integrated in the app that will allow individuals to read news and information about the convention and the race for the presidency from Bloomberg's network of journalists. Yelp reviews are also integrated into the application so attendees can get information about host cities—everything from late night restaurants to taxis.
"It will make the event planning process much easier for the host," says Baptiste. "Finding something new and unique to do isn't always easy and I think we've done that here. I'm proud of the application and I'm really looking forward to seeing how it's used at the conventions."
Meet the Author
---