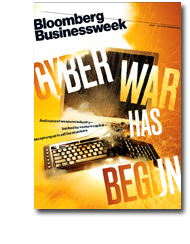 Bloomberg Businessweek has been rapidly expanding an "alternative distribution" plan to print subscribers. Since last December the magazine has been partnering with newspaper publishers and other delivery services to have the magazine hand-delivered with the Friday morning paper. Currently, 9 percent of the magazine's 860,000 domestic print subscribers already receive the magazine this way. The publisher wants to expand into other metro regions and raise that to 30 percent by the end of the year.
And that figure is just a 4Q 2011 goal. The magazine likely won't stop there. Instead, to counteract delays caused by the Postal Service's FSS equipment and a potential five-day delivery schedule, it will continue to explore ways to transition more print subscriber copies away from USPS delivery and into co-delivery with newspaper publishers and other private delivery services.
Right now, the weekly magazine achieves about a 60 percent cumulative delivery rate between Friday and Saturday with the Postal Service. The remainder of subscriber copies arrive sometime between Monday and Wednesday-the latest arriving almost a week after the issue ships.
By partnering with a major newspaper and/or a private carrier, the magazine has a guaranteed Friday delivery by 6 am.
After Bloomberg bought the magazine in late 2009, incoming president Paul Bascobert initiated discussions on enhancing the its delivery options. By December 2010, subscribers in Philadelphia were getting the magazine through a partnership with the Philadelphia Inquirer on Friday mornings.
By August this year similar partnerships will be rolled out in Portland, Oregon, Chicago and in southern California from Los Angeles to San Diego. "We're in the process of getting signed contracts as we speak," says Bernie Schraml, director of manufacturing and distribution for Bloomberg Businessweek. "It will be a mix of newspaper companies and private delivery companies in those markets."
Partnerships in the New York metro area, New Jersey and Connecticut are expected to launch by October. In all, Schraml is expecting to have about 250,000 subscriber copies delivered by this method by the end of the year, maybe more. "We don't have any limit at all as far as the total number of copies," he says. "The more the better."
How It Works
Schraml identifies regions of the country where there's a combination of problematic delivery, sufficient entry points and appropriate and available delivery partners. After an NDA is in place with the partner company, Bloomberg Businessweek provides a copy of its subscriber file for that region to the partner. The highest density areas are selected for delivery.
Schraml declined to reveal pricing arrangements, citing confidential agreements, but costs vary according to subscriber density and are determined by the number of copies delivered into the area. Overall, costs are comparable to traditional delivery of subscriber copies. "I don't have a budget to increase my costs, I can tell you that," clarifies Schraml.
In markets where the alternative delivery system will launch, customers are notified either by a letter polybagged or cover-wrapped with the issue two weeks prior. Subscribers can choose to stay with postal delivery or take the alternate Friday morning delivery.
So far, Schraml says there's been a ratio of under 1 per 1,000 customers who've asked to go back to the traditional delivery method.
The magazine is delivered in its own polybag, soft-folded and handled separately from the newspaper.