Bloomberg Businessweek, Bloomberg News To Merge Online

Big changes to content, aesthetic and editorial leadership.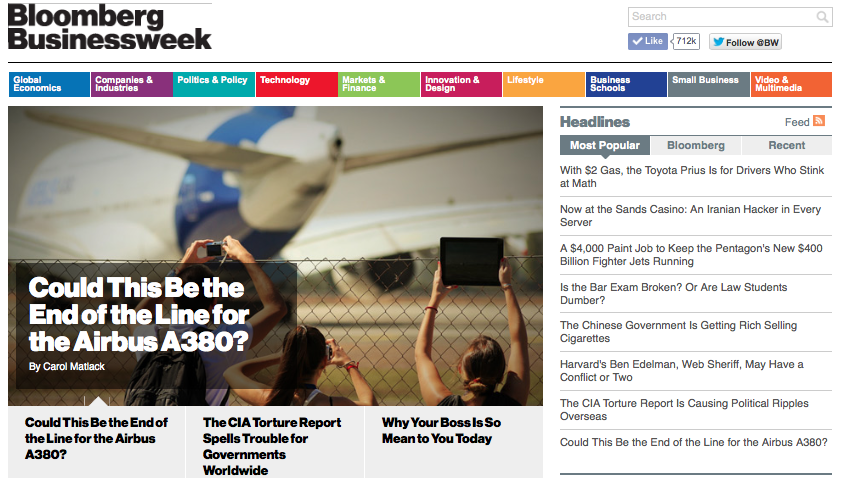 Bloomberg Businessweek and Bloomberg News are going to become one media powerhouse early next year—online at least.
The brands will merge for the Web as Bloomberg Business at Bloomberg.com, posting breaking news and quick-hit commentary—traditionally Bloomberg News content—alongside the longer features and analysis you'd expect from Businessweek.
Josh Topolsky, editor of Bloomberg Digital and the company's chief digital content officer, tells AdAge the site will draw on the latter's aesthetic, while also sharing similarities with the group's new politics site.
"We're trying to take the vibe of Businessweek and take it to a space that's minute-to-minute," he says.
Bloomberg TV is also reportedly in line for a Businessweek-inspired makeover.
The look-and-feel of Businessweek online is quite distinct from its industry-leading print design, but the two are getting closer as print magazines (and especially their covers) fulfill a new purpose on social media.
Along with the imminent mergers of their content and aesthetic, editorial leadership at the company is changing. John Micklethwait, formerly of The Economist, was named editor-in-chief for all of Bloomberg's content operations earlier this week, taking over for Matthew Winkler who becomes editor-in-chief emeritus.
Though the company's media financials have improved dramatically in the last several years, Businessweek still loses $30 million annually, according to analyst estimates reported by The Financial Times.
Businessweek doesn't have to be profitable for it to make sense for Bloomberg as a whole, execs say, but they're hopeful the changes could accelerate its recovery.
Meet the Author
---