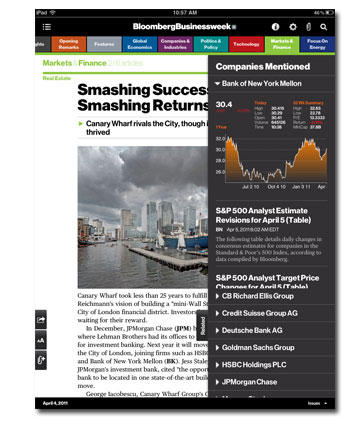 Bloomberg Businessweek is giving readers an up-close look into its content production with podcasts from columnists and video interviews with editors.

App users can see behind the scenes videos about the cover story and its artwork every week from editor Josh Tyrangiel and creative director Richard Turley. Individuals can also hear interview podcasts from columnists like Charlie Rose and Tom Keene.
The print publication has a rate base of about 900,000. According to Oke Okaro, the Global Head of Consumer Mobile Business for the Bloomberg Multimedia Group, 17 percent of subscribers currently have an iPad, which is a target market of about 153,000 potential app readers. The publication declined to say how many times the app, which was launched April 11, has been downloaded so far.
"It's a very important device for us to be on. We started out from the standpoint of let's bring our magazine to our audience on a device that they increasingly carry," says Okaro. "One thing we do know, without a doubt, is that it's been incredibly well received by our readers and the market place."


Print subscribers are able to access a full subscription of the Bloomberg Businessweek iPad app for free if they enter their account number, e-mail address or home mailing address when they log on to the app. Individuals can download a free test issue of the magazine or become a subscriber for $2.99 per month.



Okaro says the group didn't want to monetarily alienate their print readers. "One of the things that is most important to us is to treat our best customers the best and our best customers are people who subscribe to the [print] magazine today — we wanted to make sure that we don't penalize them for wanting to read the magazine on another device."


The iPad app offers several interactive features to, as Okaro puts it, enhance the reader's experience. A user can create a personal archive of articles of interest by digitally clipping content which they can share on social media sites; the app affords the user the ability to increase or decrease the font size to make any story more legible and an app user can choose to flip pages in landscape mode or interact with the text by scrolling down the screen in portrait.


"We've provided multiple ways for people to discover content," Okaro says. "We wanted to make sure that we enhanced the experience in ways that were important to our readers."


The app gives readers the most current information while submerged in a story – if an individual is reading a piece that mentions Microsoft or Apple they can click on the company's name and find the latest market information and the latest news on the company. Other features include the ability to search across multiple issues for related content.
The app also lets readers know what kind of commitment they are making with a story by telling them how many pages a story is "up front. It's very important for the user because they want to know what sort of a commitment they're making – do I have the time to read a five-page article now or do I more have time for a two page article now?" Okaro says.
Users of the app will also have access to something the print edition lacks – a table of contents and a highlights section that notes the top articles from different areas of the magazine. Additionally, related content appears at the bottom of every article to allow users to continue to read.


"We wanted to give people the ability to dig a little deeper and learn a little bit more," he says.