Blogs as Big Business: Support Staffs and 300+ Posts Per Week

The Atlantic has seen returns on its 'Dream Team' of bloggers.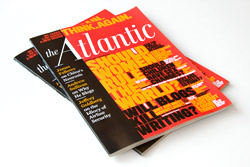 Blogging is becoming the dominant force for many magazine Web sites and while most sites have their magazine staff blogging on a rotating schedule, the industry is starting to see some staffers dedicated full-time to blogging.
That's the approach The Atlantic has taken in hiring big names such as Jeffrey Goldberg, Ta-Nehisi Coates and Andrew Sullivan, who was named to the 2009 FOLIO: 40 for his efforts in making the Atlantic a credible online brand (its bloggers are also tasked with writing for the magazine as well-Sullivan's next project is to look at how the conservative party in England came back into prominence and what lessons that may have for the reeling Republican party in the U.S.)
Sullivan says that he typically posts 300 times per week (a number that surged to 400 or 500 a week during the presidential election). Of course, Sullivan has also been able to hire two full-time assistants to help navigate the white noise of the Web.
And with theatlantic.com seeing traffic grow from 522,066 uniques and 1.4 million page views in January 2007 to 2.5 million uniques and 68 million page views in January 2008, it seems to be worth the investment.   
Meet the Author
---