Blogging from Wal-Mart's Magazine Rack

What awaits the intrepid consumer in Jackson, Alabama?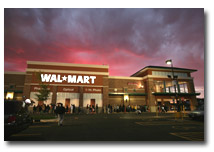 After reading the news on Friday about Wal-Mart removing 1,000 magazine titles from its nationwide stable, I got to wondering. What can you buy at Wal-Mart? Since I was going to my hometown of Jackson, Alabama this past weekend, what better way to spend a Saturday afternoon than perusing the magazine selection?
Some background: Jackson is a rural town of around 6,000 located in the piney woods of southwest Alabama. The nearest city, Mobile, is an hour away. With the local economy almost wholly independent on a paper mill, the town is one plant closing away from being a statistic. There are other mills and chemical plants in the area but the nearest one is a half hour away. Hunting and fishing are the most popular pastimes here.
In my youth, I remember spending time at the magazine rack at the Delchamp's grocery store (now closed) reading MAD magazine while Mom shopped for the week's groceries. I was also the first in line to buy one of the three issues of Fangoria that the convenience store/gas station in the middle of town would get. Like Delchamp's, the Junior Food Store has also gone with the wind. Yes, Fangoria and MAD were my favorite magazines as a kid and I still seemed to have turned out okay, despite what my Dad would tell his friends.
The magazine stock at the Wal-Mart (or Wal-Mart's, as some call it) consists of two racks, three shelves each, for a total of roughly six feet. At first glance there aren't too many surprises: Shotgun News, Bassin', Guns & Ammo, 14 different car magazines, and two four-wheeler magazines.
As far as women's titles go, all of the usual suspects were there—Redbook, Glamour, InStyle, Oprah, Vogue, Allure et al. However, there were no men's magazines other than the aforementioned with the exception of three bodybuilding books: Flex, Muscle & Fitness, and Muscular Development. Men's Fitness and Men's Health could not be found, but neither could GQ or Details, which is no surprise. Also, there were no newsweeklies: Time, Newsweek, or US News & World Report.
Other titles on the shelves included Tiger Beat, Southern Lady, Playstation, Small Room Decorating, Country Living, EGM (Electronic Game Monthly), three quilting magazines, a scrapbooking mag, a baseball card magazine, and three different guitar magazines. Much to my surprise, Jackson seems to have its fair share of weight lifters and guitar heroes. Who knew?
There were no surprises at the checkouts either: Soap Opera Digest (among other similar titles), Us, People, TV Guide, Readers Digest, National Enquirer, and plenty of digest-sized recipe books. These are, more or less, the same magazines that have been on checkout stands around the country as for years.
The biggest surprise to me—and the biggest amount of real estate on the newsstand—was taken over by puzzle books. Crosswords, Find-a-Word, Word Seek, Sudoku took up an entire shelf on one of the racks with 50 different titles alone! I was also surprised not to see any faith or religious-themed magazines, considering Jackson is the first notch of the Bible Belt. Another notable omission was the lack of Spanish language magazines such as Latina or People en Espanol. The Hispanic population has drastically increased in recent years and this is a population that is being totally ignored.
With the exception of TV Guide, not a single magazine that I subscribe to could be found at Wal-Mart. I remember looking for the new Entertainment Weekly on one trip home and was out of luck. (It would be easier to find a pork roll at a bar mitzvah than a Vanity Fair at an Alabama Wal-Mart!)
My own magazine, Southern Breeze, was nowhere to be found either. No matter, Jackson is out of our coverage area anyway! The ONLY regional on their shelves was Southern Living which, again, was no surprise at all. Unfortunately, for future magazine editors/teenage nerds like myself, MAD was MIA.
I'm not sure what this selection says about the population of my hometown but I do know what it says about Wal-Mart's magazine mavens: they know their audiences pretty darn well!
NOTE: If anyone reading this column from other parts of the country would like to comment on what they find at their local Wal-Mart, please let me know in the comments section below!
Meet the Author
---