Bloggers, Tweeters React to Portfolio's Closure

Condé Nast's latest shuttering not unexpected.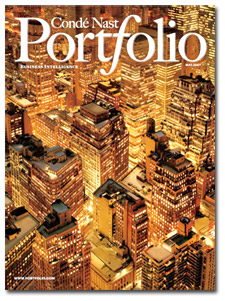 Condé Nast announced this morning that it will shutter Portfolio, the troubled business magazine that it spent more than $100 million to launch. News of the closing first appeared on Wall Street Journal blogger Peter Kaftka's Twitter feed, and was quickly confirmed by Jeff Bercovici, Portfolio's own blogger.
Below, a sample of reactions from the blogosphere, Twitter and the Web:
For nearly two years I've been covering the media industry's bad news on this blog, including some that's hit very close to home. Now it hits closer still.
Hamilton Nolan, via Gawker:
Condé Nast, Manhattan's most lavish magazine publisher, was once able to subsidize expensive and monumental magazine launches with newspaper profits. But now the last of its kind, Portfolio, is dead.
BusinessWeek's Jon Fine:
The shuttering of Portfolio, among other cutbacks at Condé Nast, means that not even a magazine company well-known for keeping struggling titles alive (generally for reasons that are more personally-driven than market-driven) can elude current media realities.
Group president David Carey, via AP:
Our timing proved to be terrible in terms of building a big ad franchise from scratch. We saw where we are and where we want to be in 18 months. The gap between those two points was becoming bigger.
Tina Brown, via the Daily Beast:
This is terrible news. It's not just that the cratering ad market has claimed another victim. Condé Nast chairman Si Newhouse had been admirably supportive of Portfolio for the last two years. The fact that he elected to close it, as suddenly as he folded Domino, Men's Vogue, and the men's fashion trade mag DNR suggests a worrying element of panic engulfing the steadfast publisher I worked for so comfortably for 17 years at Tatler, Vanity Fair, and The New Yorker.
BW editor John Byrne's "tweet":
Did Condé Nast overspend on Portfolio? The cost of launching its website alone exceeded most mag launches.
David Wilson, via FOLIO:'s Facebook page:
This may have been most expensive magazine ever launched. They basically spent a year and over $100 million launching it as I recall. It was in the same space as my last magazine edtitorial gig (a mixture of business, finance and lifestyle) … only on a much, much grander scale. I hate to say it, but it was predictable. They spent way too much money vs. potential revenues. The business and financial audience are not in-depth readers. They have ADD personalities, and are addicted to their Blackberry's and iPhones.
Portfolio publisher William Li, via the Observer:
Portfolio changed business journalism. The whole idea of writing breathlessly glowing profiles of CEO, we didn't play that game … I'm proud of the fact that in our first year we won a National Magazine award. Business Week and Fortune? Please, that never happened. We were just nominated for two Webbys!
James Ledbetter, via Slate's Big Money blog:
Last fall, I was on panel with a Portfolio writer who made a cutting remark about the vulnerability, in the age of Wall Street's evaporation, of new business publications such as the one you're reading. I challenged him to a bet: I'd wager $100 that [the Big Money] would outlast the print version of Portfolio. He declined to take the bet, which tells you just about everything you need to know about the sad, incredibly expensive history of that magazine: Even the people who continued to work there didn't, in recent months, think it could last.
Daniel Gross, via Newsweek:
Portfolio seemed to operate on the presumption that the application of capital and the hiring of boldface names could instantly establish a thriving media brand in a crowded and fractured marketplace.
Via comments on FOLIOmag.com's story:
It came up fast and it ended fast. Business information is really covered well on the Internet, so it's a bit understandable that a print information source would not be valuable unless it was unique. If the big, established titles are struggling, it should have been a warning sign to Condé. Just do what it takes to keep Vanity Fair going …

It seemed a lot like Vanity Fair, which I already read, but with a biz bent. If VF cranked up the coverage in that direction by even a feature every other month, I'd feel like I have my serving of Portfolio too.

A $100 million to launch it? Condé Nast had more money than sense.

Let's get some perspective here. Portfolio launched at a time when "sub-prime," "bailout" and "recession" didn't appear in the first 100 words of every business article. It presented a different voice in business coverage along the lines of Vanity Fair, albeit without the cloying bits of high-society hipness and Graydon Carter's unbridled hatred of George W. It's a sad irony that Portfolio left us with one of the most-entertaining and precise sagas of the Wall Street crash with Michael Lewis' "The End."

I am a one-man army at our little magazine, pulling in small but healthy ad numbers but still tickin' because, I believe, that we have the freedom of shifting gears faster than monolithic organizations. Condé Nast is just too big. Love Vanity Fair, but wonder who reads it all?

I have to admit I will miss Portfolio. As a subscriber since issue #1, I felt it elevated the otherwise dry genre of business reporting to something that bordered on what one might call "sexy."

I could never quite get comfortable with the positioning of Portfolio. It was stuck between trying to be a business magazine and a fashion/lifestyle magazine and never made it to either.
Meet the Author
---