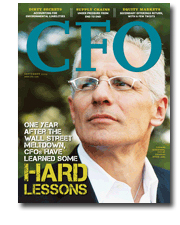 U.K.-based The Economist Group has sold CFO Publishing—including CFO magazine—to private equity firm Seguin Partners, which will form a new company to officially acquire the assets. The Economist Group said it will retain a minority stake in the new company.
FOLIO: first reported in September that The Economist Group was quietly pursuing a buyer for CFO.
Under CFO's new management plan, general manager Frank Quigley will become president and CEO. Quigley did not immediately return a request for comment.
Seguin managing partner Martin Madden could not be immediately reached for comment. In 2001, Madden and Seguin operating partner Alan Glass (then under Bariston Partners) acquired a majority stake in The Economist Group's Journal of Commerce, which was sold again in 2006 to United Business Media for $152 million.