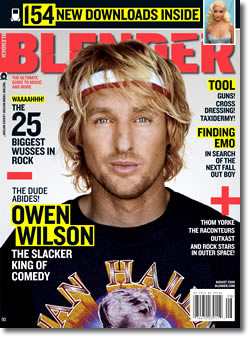 Alpha Media Group CEO Kent Brownridge today announced the appointment Rolling Stone staffer of Joe Levy as editor-in-chief of Blender.
Levy joins Blender after a decade at Rolling Stone, where he served most recently as executive editor. Prior to his time at Rolling Stone, Levy held posts at Details, Spin and the Village Voice.
Brownridge calls Levy "The Dean of today's music magazine editors—he is well known among his peers in the music industry, and beyond, for his passion and professionalism."
Brownridge, a former Wenner Media executive, formed Alpha Media Group last summer after purchasing Dennis Publishing for $240 million.
This fall, Brownridge hired former Men's Journal editor James Kaminsky as editorial director at Maxim, replacing Jimmy Jellinek. At Blender, Levy replaces Craig Marks, who had served as editor since 2004.