Black Republican Association Mag Raises Eyebrows

Publisher: 'Democrats started the KKK.'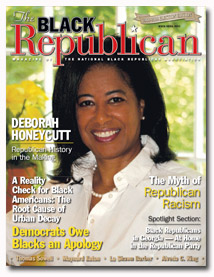 "Democrats embrace their child molesters."
"Top 10 Democratic sex scandals in Congress."
"Democrats wage war on God."
Not the kind of headlines you'd expect from an association magazine.
But in fact they are, according to a
report
in Florida's Gainesville Sun newspaper, from the Black Republican, the magazine of the National Black
Republican Association.
After scrolling through the association's Web site, I saw a
story
by the magazine's publisher and executive director, Frances Rice, that claims African-Americans have been "barraged for over 40 years with falsehoods about the Republican Party by the Democrats who have hijacked the civil rights record of the Republican Party and taken blacks down the path of Socialism."
In the story, Rice writes that Democrats founded the Ku Klux Klan, which became the "terrorist arm of the Democratic Party to lynch and terrorize Republicans—black and white."
According to the Sun story, Rice "thinks of herself as an 'iron butterfly' positioned to expose the 'Democratic Party's racist past' in time to convince African-Americans to vote for John McCain." The president of the Tampa (Florida) Black Republican Club said the magazine's editorial is "a fruitless debate and it may conjure up more ill will toward the party. We should be spending money on debating the Democrats on the issues."
The mission of the association, according to the site, is to be "a resource for the black community on Republican ideals and promote the traditional values of the black community which are the core values of the Republican Party: strong families, faith in God, personal responsibility, quality education, and equal opportunities for all."
I hadn't heard of this magazine, nor the association before reading the newspaper report. I e-mailed Rice for some details about both (size of the association, distribution of the magazine, etc.) but she hasn't responded.
On one hand, it's refreshing to see an association publication take such a hard line—even controversial—stance on a topic. I'm not sure, however, that accusatory editorial like this is a productive motivational tool, regardless of your political preference.
Meet the Author
---