Black Man's Head Photoshopped onto City Guide's Cover

Spokesperson said goal was to depict diversity.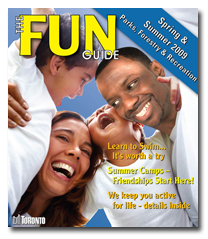 We don't write about city travel guides very often. In this case, though, I couldn't resist.
The Canadian city of Toronto recently debuted its Spring/Summer 2009 "Fun Guide" featuring a smiling, ethnically diverse family on the cover. The problem? The face of the African-Canadian father was digitally imposed onto the face of the man in the original photo.
[Click here to see the comparison.]
A city of Toronto spokesperson told Canada's National Post the original photo was doctored to better "depict the diversity of Toronto and its residents."
I'm all for representing a city's diversity, but imposing the head of a man of one race onto the shoulders of another man, is unacceptable. Not to mention this cover looks like a gag.
 
"Is that a joke?" asked one creative director I shared this story with. "That's just horrible."
And, the best part: the original photo is a stock image. The family is "not known" to be Toronto residents.
[Editor's note: This post reminds me of an old Onion headline—"Black Guy Photoshopped In"—but, unfortunately for the city of Toronto, this time it's not a joke.]
Meet the Author
---