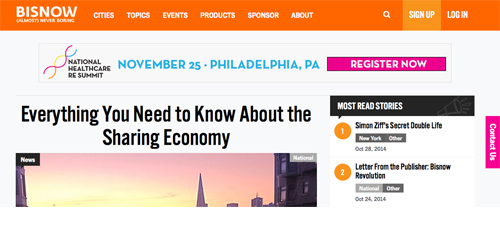 B2B media companies sometimes look to their consumer cousins for strategic inspiration. And on the digital-only side, there are plenty of consumer and business-leaning publishers advancing content and advertising models. Bisnow, a media company targeting commercial real estate executives, has relaunched its site with functionality like, well, all of them.
Bisnow.com went live last Friday, and in a discussion with Folio: about the relaunch, Bisnow CEO Ryan Begelman name-dropped Business Insider, Vox, The Verge, Thrillist, Curbed, Forbes' BrandVoice, SB Nation, Buzzfeed and Wikipedia.
But these aren't just empty comparisons by an over-reaching trade publisher. The new, responsive, Bisnow.com has explanatory news as done by the likes of Vox, listicles like Buzzfeed's, navigational simplicity like Business Insider and, soon to emerge from beta, contextual commerce a la Thrillist.
The scope of Bisnow's new media adoption is ambitious. "We wanted to build a site for the B2B world that's as easy to use as consumer sites like SB Nation or The Verge," says Begelman. "We not only reinvented our technology, but the UI and the way we do journalism and handle content."
Bisnow's roots are in email newsletters and events, two platforms the company is still very much involved in, but Begelman wanted a more robust destination on the web that inspired content sharing and engagement and offered new sponsorship opportunities for advertisers.
See Also: B-to-B Media Company Bisnow Takes Its Fun Seriously
"It creates a platform for new ideas that we couldn't have executed before," he says. "We'll keep doing events, but we'll also get into online education—short, 12-minute video segments to learn about the latest trends in real estate to get you what we call 'gym ready.' Easy, but in-depth."
That last comment could describe the entire site—easy, but in-depth. Just as Bisnow has historically used irreverence to punch up its B2B content, the site now offers bite-sized content that still tries to inform. 
Bisnow hired Billy Gray, the editor-in-chief of Observer Media's Commercial Observer, to run its homepage. It was Gray's background in digital journalism that Begelman was after. "He understands commercial real estate, but what he really understands is the new forms of media."
The site will also feature what Begelman calls personality pages, landing pages that collect all the stories about a particular person, company or brand. He has plans to sell these pages with a similar strategy to Forbes' BrandVoice homepages.
And since Bisnow produces about 250 events per year in niche real estate markets, serving upwards of 60,000 attendees, building an easier ticket-buying experience was a big priority.
"We rebuilt our ecommerce engine around Braintree, and what's significant about it is we want you to read an article about a hot topic and sell you a ticket to an event right in that article," says Begelman. "And later, a research report or an education video. We've created a cart experience and you can keep a credit card on file and check out with one click."