Bill Reilly, Founder of Primedia, Dies

Executive transformed special-interest publishing.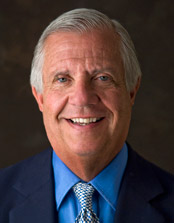 RELATED: Magazine Industry Reacts to Death of Primedia Founder Bill Reilly
William F. Reilly, a well-regarded executive whose career spanned more than 30 years in special interest and b-to-b magazine publishing, died at his home on Friday after a year-long battle with cancer, his family said. He was 70.
Reilly [pictured] had most recently served as chairman of Summit Business Media.
A wake is scheduled for October 21 in New York at the Frank E. Campbell funeral home from 2:00 p.m. to 4:00 p.m. and 7:00 p.m. to 9:00 p.m. The funeral will be held Wednesday, Oct. 22 at St. Ignatius Loyola Church in New York at 10:00 a.m.
Reilly founded Primedia (then K-III Communications) in 1989 in partnership with Kohlberg, Kravis Roberts & Co, creating one of the country's largest publishing companies through the aggregation of special-interest magazines, including, at the time, New York magazine, Soap Opera Digest and hundreds of other titles. "If you stay in the niches, you're fine," Reilly once told the New York Times.
(In 1996, Reilly oversaw the controversial dismissal of New York editor Kurt Andersen, who had written "several unflattering articles" about friends of Primedia owner Henry R. Kravis.)
Reilly, though, was forced out by KKR in 1999.
Post-Primedia
In 2001 Reilly partnered with Providence Equity Partners, forming Aurelian Communications, which acquired F+W Publishing for $130 million the following year. F+W was sold in 2005 for $500 million.
Reilly broke into publishing as president of Macmillan, Inc. in 1980. He also served on the board of directors at a number of companies and institutions, including FMC Chemicals, WNET, Barnes & Noble, Harvard Business School Publishing and was a trustee of the University of Notre Dame.
He founded Summit Business Media in 2006 through a partnership with Wind Point Partners, which acquired Highline Media and Pfingsten Publishing in November of that year.
Reilly stepped down as CEO of Summit last year, relinquishing the role to Andy Goodenough. He retained the title of chairman.
"Going into the formation of Summit in November 2006, my plan was to drive the initial growth of the business for several years as CEO, and then step back to the Chairman role," Reilly said at the time.  "I am delighted to be able to report that Summit, in less than two years, is off to a great start and has taken its place as a major B2B media company with more than 26 magazine titles, 150 reference books and electronic products and 100 live events."
Reilly was a deal man at heart. In 1998 he told attendees at the American Magazine Conference that he "welcomed a recession because it might allow him to snatch up some new properties."
And, it appears, Reilly remained a shrewd investor until the end. According to the New York Observer, Reilly recently sold his East River mansion—a home comprised of two converted townhouses—for $32.5 million, well above its $25 million asking price.
Reilly had paid $5.1 million for the properties in the 1990s before combining them.
Meet the Author
---