Bill Clinton Fetes Esquire, Takes Swipe at Rupe, Overshadows E-Ink

Former president, Lebron James, Bill Murray among partygoers.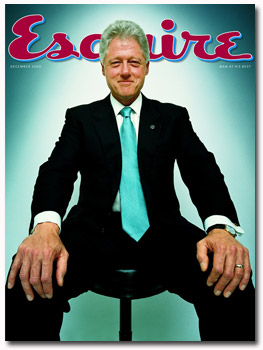 RELATED POST: Will Esquire's Cover Really 'Revolutionize' the Way We Read Magazines?
Esquire celebrated its 75th anniversary last night with a swanky party at New York City's Gotham Hall, with some 600 partygoers turning out—including Bill Murray, Lebron James and Wikipedia founder Jimmy Wales—enjoying the open bar (there were five bars, actually, arranged by type of alcohol) and quite possibly the best food of any magazine industry cocktail party (the best sandwiches from around the world were recreated for event).
The highlight of the night, though, was when editor-in-chief David Granger, speaking high above the floor between the hall's Gothic pillars, passed the mic to former president Bill Clinton, who spoke briefly about politics ("… as a Democrat, it's somewhat uncomfortable for me being up here and Rupert Murdoch down there"), the future of philanthropy and, of course, his admiration for Esquire. (Bill and Hilary were both named to Esquire's 75 Most Influential People of the 21st Century list in the October issue).
What was interesting, given the hype surrounding the magazine's historic e-ink cover, was how little attention attendees paid to it. (A snippet of one conversation I overheard: "Are you kidding me? That's what they spent all the money on? It's just silly.")
It seemed they were, for the most part, more concerned with scoring face time with Granger, or getting the proper amount of salt on their margaritas.
Meet the Author
---