Ask any magazine publisher what their biggest win of the past year was and "surviving" is probably the first word out of their mouth. However, others have done more than just scrape by. Here, six publishers describe the initiatives that have helped put their businesses on a new path.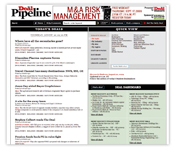 A Paid Content Success Story
The Big Win: The Deal is changing its revenue ratio to two-thirds licensing, one-third advertising.
Reducing dependence on advertising and tapping into other revenue sources—particularly paid content—is the goal of many publishers these days. The Deal is one of the first to succeed at it, thanks to The Deal Pipeline, a premier deal resource that makes money from enterprise licenses.
Planning for The Deal Pipeline began in 2006. "At the time, things in the deal world were pretty rosy but we started to think about what would happen if things weren't so rosy," says president and CEO Kevin Worth. "However, we imagined a traditional recession, not this."
Internally, the effort was called "Alter the Course," or ATC. "We were looking to fuel our digital growth but when most people say that, they talk about online advertising," says Worth. "That's still a component but we also had a strong belief in our content. At the time we set a goal that two-thirds of our overall revenue would be from licensing, one-third from advertising."
The Deal Pipeline launched in October 2008 ("Just as the world was watching Lehman Brothers fall," adds Worth). Content includes news, commentary and analysis, video and data culled from the news flow and access offered through enterprise licenses.
Helping licensees wade through the content to find what they need is also key. "It's a business development tool, not just an information provider," says Worth. "When you buy a license, you buy a service team who can help you find information."
While Worth won't revel the specific number of licenses sold, he says 32,000 people have individual IDs for The Deal Pipeline and pricing ranges from five figures to six figures depending on the license.
In 2010, The Deal will realize its goal of licenses accounting for two-thirds of overall revenue (previously, licensing and subscription were 30 percent), according to Worth, who adds that renewal rates are 85 percent or higher. "Licensing is a big piece but we're still committed to the media business," he says. "We do see a little more optimism for the magazine this year."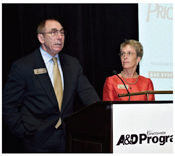 Building Up Defenses
Big Win: "Community" shows boost McGraw-Hill's event revenue 10 percent in 2009.
Canceling live events has become an unfortunate reality for publishers this year. However, Aviation Week has bucked the trend by adding to its repertoire and driving attendee and sponsorship growth.
A&D Programs, an event which discusses issues in the multi-trillion dollar industry of aerospace and defense programs, added a new program called A&D Supply Chain, based on attendee feedback.
The supply chain event brings together senior commercial and defense supply chain management executives to discuss how the industry can work together to improve performance—something particularly relevant due to the new administration in place, says Aviation Week president Tom Henricks.
The stable of complementary events also included Program Excellence (featuring finalists for the 2009 Program Excellence Awards), and two three-hour, invitation-only, sponsored roundtable meetings. Both attendee and sponsorship revenue increased 15 percent.
While attendees could sign up for an all access pass to A&D Programs, Program Excellence and Supply Chain Conference for $1,095, the new live event also gave interested attendees the ability to sign up solely for A&D Supply Chain at $895.
"Overall, our event business revenue grew roughly 10 percent from last year," says Henricks. "Even though our paid attendees were down slightly, sponsors and exhibitors made up for that."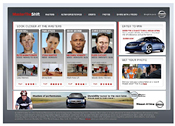 Custom Props Up Digital Revenue, Too
Big Win: Rodale's custom programs now make up 42 percent of its digital ad revenue.
About four years ago, Emmaus, Pennsylvania-based Rodale created an integrated sales and marketing force. In 2009, integrated programs—which are custom idea-based efforts, according to MaryAnn Bekkedahl, group publisher and executive vice president—became a company game-changer.
Rodale's stable of integrated custom programs has increased by 60 individual brand and/or multi-brand programs since last year, with 19 clients renewing from 2008. Integrated programs now make up 42 percent of Rodale's digital advertising revenue—which accounts for 12 percent of the company's total revenue—up from 25 percent in 2008.
Custom integrated programs also make up 13 percent of Rodale's print revenue, up from 11 percent last year; but, as Bekkedahl notes, "this percentage is part of a larger top line number."
Its largest integrated program is Mastertheshift.com with Nissan. The program includes four athletes and trainers in an ongoing print and online campaign in Rodale's Bicycling, Men's Health, Mountain Bike, Runner's World and Women's Health. Mastertheshift.com includes 90 video segments with four sports celebrities, tips, training, journals and logs and event updates; a 13-event "Master the SHIFT" national tour provides Nissan sponsorship to running and cycling events.
While Rodale will likely end this year flat in overall digital advertising revenue, "the integrated portion has seen an increase in revenue," says Bekkedahl. "We've been able to offset declines with this increasingly integrated and custom work."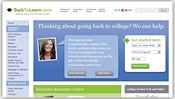 Serving a New Audience
Big Win: Identifying a new audience could earn Next Step up to $10 million in new revenue next year.
For more than 15 years, Next Step Magazine has helped teens with college planning. But to grow, Next Step is tapping into a new audience: adult students. In 2009, it launched BackToLearn.com, an online resource that helps adults research colleges.
"This is a white-hot market and adults are going back to college like never before," says Next Step founder and CEO David Mammano. "Colleges are spending tons of money recruiting adult students."
BackToLearn offers college partners a free ad and guarantees a certain amount of leads from that ad, charging for those leads (usually $50 per lead). "Colleges are listed in our directory and pay for every prospect that fills out their request information form," says Mammano. "Some traditional advertisers say they don't pay per lead so we charge them a fixed amount and then guarantee a certain amount of leads."
While BackToLearn leverages the same Next Step staff, it's run as a separate company. "From an outside perspective, it looks like just another product from Next Step Publishing," says Mammano. "It's a different company is because we needed investors. Next Step has no investors, so if BackToLearn tanks, I didn't want to be stuck with investors in my mothership."
Early traffic numbers are 5,000 uniques per week and Mammano wants to grow that to at least 300,000 uniques per month over the next year.
Launching BackToLearn cost about $250,000. "That's not much for a new launch but we were able to keep costs down because of shared revenue resources with Next Step," Mammano adds. In 2010, he expects to see between $5 million and $10 million in revenue from BackToLearn.
"I think this strategy is here to stay because the market has dictated it," he says. "We basically have no choice but adapt to this model or go the way of the horse and buggy. I was a paper boy, I ran the college newspaper and I started Next Step Magazine. I bleed ink. Now I guess I bleed online ink."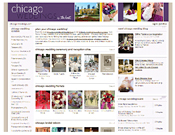 Go Niche
Big Win: The Knot created 220 new vertical sites (run by a single editor) that drew 16,000 local vendors.
At the MPA Magazine Innovation Summit in October, David Liu, CEO of The Knot, an online wedding planning portal, noted a few digital trends that should be of concern to publishers, including online adoption slowing in the U.S. and time spent online falling for the first time in 2009, all while the number of sites competing for attention are growing.
Rather than "fall victim to the natural long tail," The Knot decided to "channel and catalyze it ourselves, launching 220 vertical sites this year alone."
The Knot portal offers both geographic and style/custom based sites ranging from Cape Cod weddings to military weddings. Traffic to local directories grew by 20 percent in September, Liu says. Currently, the company's return is translated into traffic growth, but The Knot will begin selling against that in 2010, but so far the company has added 16,000 local vendors to its directory.
The 220 sites only have one editor (assisted by eight interns), who publishes the sites in batches of 40, using much of the content from The Knot's flagship sites. "In our old methodology, we would have been spending an insane amount of money locking in six to eight people for 60 days to work on one site," says Liu.
 In Q3 of 2009, The Knot reported total revenue of $28.2 million, up 4 percent over last year. Local online ad revenue rose 4 percent to $8.7 million, while e-commerce jumped 30 percent to $7.5M due to an acquisition.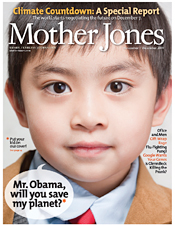 Streamlining Audience Development
Big Win: Mother Jones created a new membership department and saved 30 percent on circ functions. 
As a not-for-profit, Mother Jones sees a mix of revenue including advertising, newsstand and donations. Executing on each of those channels, however, was a drain on internal resources. "Our big win was to at last integrate circulation direct marketing functions with our fundraising direct marketing," says interim chief executive Steve Katz. "It sounds like a no-brainer but it took the entire organization to agree to move the cargo ship in the right direction to bring those functions together."
Katz was hired out of a non-profit background to push Mother Jones' philanthropic giving program into a more sophisticated system and he built out a high return, fundraising program combining direct mail, telemarketing and online.
However, the two parallel marketing programs weren't coordinated. Katz and his team took the circulation functions on the earned revenue side and low dollar fundraising functions and merged them into a new membership department. Mother Jones also brought the circulation function in-house after working with a contract consultant and recruited two new people in associate publisher for membership Kevin Walter (former publisher of The Washington Spectator) and circulation director Amber Hewins (former publisher of The Progressive and circ exec for The Atlantic) to run the department.
Mother Jones also merged all audience data into a unified database. "This gives us a greater opportunity to handle the audience file and understand who they are, how they give, how they subscribe and how we can approach them more efficiently," says Katz.
In 2009, Mother Jones reduced its fulfillment costs by 30 percent. "Having a team that owned this function saved us another 20 percent in circulation promotion costs," says Katz.