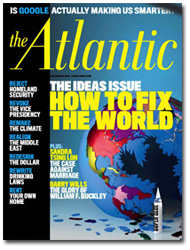 Coming off a difficult first half that saw ad pages slide 24.6 percent compared to the same period last year, The Atlantic said its July-August "Ideas" issue, on newsstands now, pulled in the most ad revenue of any issue in the magazine's history.
While publisher Jay Lauf declined to say exactly how much in revenue the issue generated, he said revenue was up 36 percent over the same issue last year. This year's issue carried 63.4 ad pages, he said.
"Our Ideas franchise, anchored in an annual issue about ideas, the Aspen Ideas Festival and rich online extensions on the topic, clearly resonate with advertisers who have something meaningful to say," Lauf told FOLIO:. "I think our success is an indication that there's a cultural shift toward substance that can benefit magazines that write substantively about the subjects shaping our lives and futures. Perhaps more importantly, it's an indication that strong ideas can still find a market."
Lauf said preliminary newsstand figures for the issue aren't in yet—it hit stands in mid-June. Last year's Big Ideas issue was the magazine's best-selling issue in nearly a decade, he said.
In regard to the Aspen Ideas Festival, attendance this year was about 2,500 people and revenue was flat compared to last year's event, which is "a huge success for us," Lauf said.
Online, the Atlantic's Ideas Special Report helped boost ad sales in June by 8 percent and about 50 percent so far in July, compared to the same months last year. Since the Ideas report was posted, overall site traffic has jumped to 21.4 million page views and 3.2 million unique visitors.