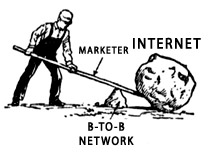 BBN Networks, the upstart b-to-b advertising network, has announced that four major b-to-b publishers—Ascend Media, Hanley Wood, Incisive Media and Vance Publishing—have joined, bringing a total audience of 20 million b-to-b buyers.
The addition of these publishers will further deepen the reach into markets such as construction and agriculture, while opening a new audience of health care, financial and legal professionals. The expansion will include the Web sites of publications such as the American Lawyer, Builder, Clinical Lab Products and Drovers.
"They came to us and said we're going to go after advertisers that you just don't have the bandwidth to," Ascend Media CEO Vicki Masseria told FOLIO:. "We had ad space inventory online in our publishing division and we decided to go for it. Some big time advertisers are involved. Plus, it's a revenue share so, really, we have nothing to lose."
BBN was launched earlier this year when Cygnus, McGraw-Hill Nielsen and Reed Business came together in partnership with 24/7 Real Media, Inc. to create the first large scale b-to-b platform for online advertisers.