The Big Aeron Chair Payback

Are magazines reaping the seeds they've sewn for so many years?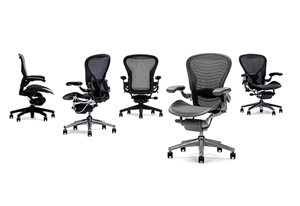 To say that the news about our industry is depressing is an understatement. Massive cuts. Layoffs. Shutterings. I can't help but think back to the many years I worked in the b-to-b world.
Looking back, it certainly seemed like nothing was ever too expensive to be prohibited from expense reports. One example: Herman Miller Aeron Chairs. At two of the b-to-b publishers where I worked, every single office and cubicle had an Aeron. I'll admit, they are comfortable and I even have one at home. Floor after floor was filled with Aerons. At $1,200 a pop, that's a lot of cash that could've been used to—oh I don't know—save a magazine! Now, the Aerons sit empty in darkened offices and cubicles, a reminder of what once was.
Then there are the travel expenses. I remember the first time I traveled on the company dime at another b-to-b and I turned in my expense report. This particular trip saw me traveling from NYC to Atlanta then to Tampa and back to NYC. My boss laughed when I turned in receipts from Pizza Hut, Dairy Queen, Ruby Tuesday and Krystal.
"Mark, I always try to treat myself to a really nice meal when I travel on the company dime," he told me. And by "really nice meal" he wasn't talking Olive Garden—he meant restaurants of the Smith & Wollensky or The Palm variety. Unfortunately that "company dime" has lost its shine as the magazines I worked for at back then have gone the way of job security, Christmas bonuses and U.S. banks.    
I'm no Warren Buffett, but maybe it's not enough to look at the bottom line JUST when the economy is in the crapper. Perhaps big publishers need to observe some of the small publishing houses that are managing to maintain successful companies even in lean times.  
Meanwhile, I'll keep multi-tasking at Southern Breeze along with the numerous other publications and Web sites we produce.
All while sitting on my $50 Office Depot chair.
Meet the Author
---