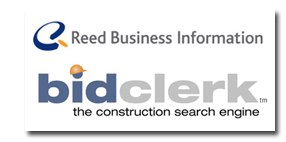 Construction information service provider BidClerk Inc. has dropped its lawsuit against Reed Business Information and its Reed Construction Data unit.
On September 29, BidClerk filed a complaint in Minnesota U.S. District Court alleging that a series of "denial of services" attacks were directed against its online system from an IP address belonging to RBI, flooding it with "millions of page views." It also alleged that a "click fraud'" scheme aimed at BidClerk's paid advertisements generated "hundreds of thousands" of invalid clicks and impressions on its ads.
As a result of the filing, RBI says it conducted an investigation of its computer and determined that activity affecting BidClerk's computers was not the result of intentional acts by RBI. According to RBI, BidClerk is "satisfied" with RBI's findings and it has dropped its claim, "without any payment from RBI to settle the case."
Meanwhile, RCD's corporate espionage complaint against McGraw-Hill Construction is ongoing.