Bicycling Unveils Major Redesign, Boosts Budgets By Double-Digits

Editor-in-chief Peter Flax: "We want to be as good as any title in any space."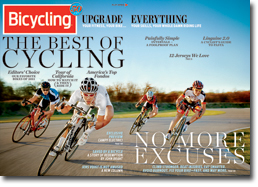 Magazine redesigns are a dime a dozen but the editorial and design facelift that Rodale's Bicycling is unveiling with its June issue is a "significant rebirth of the brand," according to editor-in-chief Peter Flax. "A lot of time people change typefaces and update a couple departments and call it a redesign," he adds. "That's not what we're doing here."
Bicycling celebrates its 50th anniversary this year and a major redesign has been the focus since Flax joined the magazine last summer. The cover boasts a new logo and a boost from 70-pound paper stock to 100-pound stock, while a new front-of-book-section called "Know How" offers service for readers.
Major investments are being made in photography and freelance editorial. "When we were leading up to the redesign we had a lot of ideas but Rodale made a significant investment in market research to enlighten what we were doing," says Flax. "We talked to both existing readers and prospective readers about what they want in print and what they want digitally and in print what they want is story-telling, beautiful photography and packaging, things that a print magazine can do well that's difficult to do online."
Editorial will include 7,000 to 8,000-word narratives in each issue. "This magazine has a tradition of winning National Magazine Awards for feature stories and our aim is to do that kind of journalism in every issue," says Flax. "We don't just want to be the biggest cycling magazine, we want to be as good as any title in any space."
Freelance edit and photography budgets are up 30 percent to 40 percent, according to Flax. "Anybody in the business knows when you upgrade from 70-pound cover stock to 100-pound cover stock, you're talking about a six-figure kind of investment," he says. "This is a real investment for a brand like ours and puts us in position to work regularly with photographers who before may have been out of our reach to do page after page, issue after issue. It's one thing to reposition a magazine, it's another thing to have the resources to execute it."
Market Response
While ad pages in Bicycling dropped 6.5 percent in the first quarter of 2011, according to Publishers Information Bureau, the magazine rebounded in the second quarter with pages up 6 percent in April and 23 percent in May, according to the publisher. For the June redesign issue, ad pages are up 26 percent.
While the publisher says endemic pages are up 18 percent, auto advertising is up 107 percent this year. "We've been floating out images in advance of the June issue and the acceptance has been fantastic," says publisher Chris Lambiase. "We're doing this at a time of strength–participation in the sport continues to grow."
The Bicycling audience has household income of $84,000 with a high percent of readers with professional/managerial job titles, according to Lambiase. "Redesigning Bicycling to be more sophisticated and visual allows us to better match the interests of our current audience, and to bring in new readers that are attracted by that aesthetic." 
Meet the Author
---