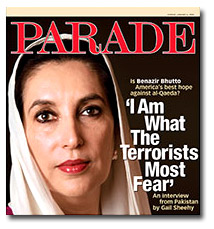 Parade magazine's Web site received the largest number of unique visitors in its history on December 27, the day of Benazir Bhutto's assassination, when it released its feature on Bhutto, scheduled to be the cover story for its January 6 print issue, more than a week early.
Approximately 81,000 users visited the site on the day the piece was posted, compared to Parade.com's daily average of 31,000, and the article received more than 100,000 page views. The writer of the article, Gail Sheehy, who is a contributing editor for Parade, has appeared on The O'Reilly Factor, Larry King Live, CNN's The Situation Room, the CBS Early Show, and ABC Radio, among other programs to discuss the interview.
The magazine felt the story's early release online was the "journalistically responsible thing to do," a spokesperson for Parade told FOLIO:. "We wanted people to see it to bring attention to a prescient story."
Sheehy's interview with Bhutto took place in late November. In the article, Bhutto tells Sheehy, "I am what the terrorists most fear." The article will appear, as scheduled, in Parade's January 6 issue, which had already gone to press by the day of Bhutto's assassination.
A profile on Benazir Bhutto also appears in More magazine's December/January issue and on More.com, based on an October interview with Bhutto by writer and Bhutto's former Harvard classmate Amy Wilentz.
SEE RELATED BLOG POST: Did Parade Handle Bhutto Coup Correctly?