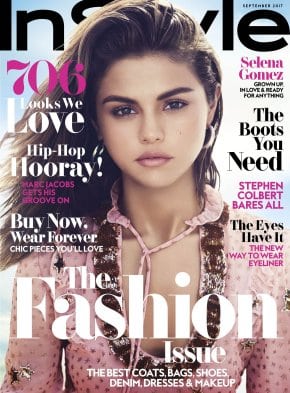 The September issue is still a big deal. Whether it's the promise of the new fall season or a plunge back into a busy lifestyle after a slow summer, September issues tend to gain a lot of traction from audiences, which means that top brands are thinking beyond the pages of their books.
At InStyle, the September issue is the first headed under newly-appointed editor-in-chief Laura Brown. The newsstand cover features singer and actress Selena Gomez. The team leveraged video to promote the issue, with broadcast exposure on both news and social outlets, as well as a multitude of videos pertaining to the issue on its site, InStyle.com.
In other efforts to promote the September issue, the InStyle team held an event last week in Manhattan called "Get InStyle at Brookfield," which allowed guests to shop at local retailers along Brookfield Place with a happy hour event in the evening.
At W, the team is using augmented reality and interactive features to promote its issue. To complement the magazine, the cover, featuring Katy Perry, will be three-dimensional with a video and audio message from the singer. The 3-D feature will lead users to W's "Beyond the Page" app, produced by The Mill, a creative technology and VFX studio. The app includes cover content, a short video series, features and portfolios.
In the men's sector, Esquire plans to host a dinner event at Chateau Marmont in L.A. on Sept. 6 to accompany its "Mavericks of Style" list. Hearst Magazines also launched a "We Are Fashion" campaign again this year, emphasizing its Elle, Harper's Bazaar, Marie Claire and Town & Country titles. The campaign ran in retail locations in major markets throughout the U.S., along with newsstand and billboard exposure.