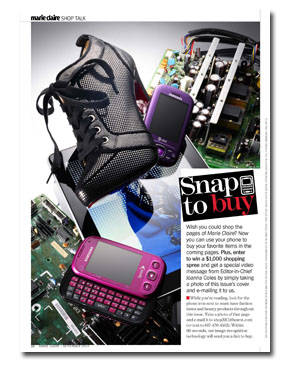 While a lot of publishers continue to experiment with 2-D barcode technologies in print to provide readers with some type of added online or video content, a pair of publishers are pushing the concept further.
 
In its September issue, Marie Claire is offering a "Shop the Ads" program that leverages services from advertising technology company Pongr that lets consumers use mobile cameras to share images of designated products across social networks as well as request information on the product from the brand as well as contact editors. The promotion—which builds off an editorial program call "Shop the Shoot"—doesn't use bar codes, apps or require consumers to have a smartphone.
 
"We wanted to make our pages even more shoppable," says Marie Claire vice president/publisher Nancy Berger Cardone. "We met with other vendors but they usually had to embed a barcode into the page which advertisers didn't want, or consumers had to download an app, which added another step and was a disincentive for our readers."
 
Twenty-seven pages in Marie Claire's September issue have been designated for the program, featuring more than 200 products from brands such as Armani. Readers can also sign up for a $1,000 shopping sweepstakes and receive video or text confirmation from editor-in-chief Joanna Coles upon entry.  While the program has been available for one week, Marie Claire has received 3,000 responses to date.
 
Advertisers can customize the message they want to send to consumers, ranging from straight product information to retail locations to connecting buyers with a sales person. Ponger has been used for b-to-b applications as well, including a company selling $350,000 tractors. "All that customer wanted was a return that said 'Click here to talk to a representative immediately,'" says Pongr senior vide president of sales Wright Ferguson Jr.  "That makes sense when you're talking about an extremely detailed, high ticket item."
 
Currently, Pongr charges a flat upfront fee to set up the system but will be implementing a cost-per-click model in the future. Marie Claire offered "Shop the Ads" as a value-add to advertisers while asking for incremental business throughout the year.
 
"This dimensionalizes print," says Cardone. "Anything to give advertisers the metrics to show that their advertising is working and women are responding to their creative is a good thing."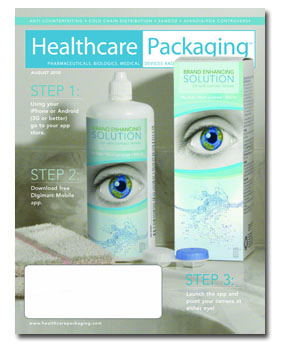 Summit Publishing Offers Embedded Watermark
One is Summit Publishing Company's Healthcare Packaging. For its July/August issue, the magazine partnered with New Jersey-based Catalent Pharma Solutions—a provider of technologies and services to the global pharmaceutical, biotechnology and consumer healthcare industry—to include an embedded watermark on the cover of the magazine. Unlike a barcode, which traditionally is visible on the page, the watermark is not detectable by the human eye. Readers can scan the cover using their smartphone to watch a video explaining the watermark and its anti-counterfeiting implications for the healthcare packaging industry.
"This spring, I attended a pharmaceutical processing and packaging tradeshow, at which Catalent had a demonstration at their booth where they had you download this app, point your phone at this box and a video or brochure came on," says Healthcare Packaging publisher featuring publisher Jim Chrzan. "It was the biggest crowd I've seen at a booth in a long time."
Chrzan says it is rare for the magazine to feature a supplier's technology on the cover but "we couldn't think of a better way for the readers to see first-hand how exciting it can be than to do it for themselves. Catalent does have an ad in the issue, but we cover all sorts of other anti-counterfeiting technologies inside." The cover [pictured above, left] features two mock healthcare products and explains, in three steps, how readers can utilize the watermark to access the video.
Catalent partnered with Digimarc, which creates embedded digital IDs, to develop the watermark technology. Digimarc provided the core technology that allowed Catalent, a licensee, to develop an app that users can download for free in the Apple iTunes and Android Marketplace.
"We developed this as a way for the packaging to allow the brand owner to connect with their consumers, as well as to provide a certain layer of brand authentication and protection against counterfeiting," says Victor Dixon, vice president and general manager of Catalent's printed components business. "This, essentially, is an additional layer in an artwork file that is a discrete watermark code that cannot be recognized easily by the human eye but can easily be detected by a smartphone. If you put it under some level of magnification, it would look like random, scattered dots and lines, and organized pattern of color."
Once it was finished designing the cover, the Healthcare Packaging team sent Catalent the electronic file of the cover. Catalent then embedded the watermark. The file, along with the rest of the issue, was sent to Quad/Graphics, the magazine's printer. No extra steps were required to print the cover.
"[Quad/Graphics] was able to provide us with SWOP standard color proofs, which also had the technology, and the printed page came off the presses with no problems," Healthcare Packaging production manager George Shurtleff tells FOLIO:.
 
"We're seeing a trend that, in packaging, more and more packages with branding are driving customers to the brand, not going to the company's Web site directly," says Chrzan. "And we as a magazine need to effectively marry print with the Web. We find that when we look at our circulation and audience there is maybe a 12 to 16 percent overlap, but for the most part, print and Web are separate. This, we believe, is an effective way to do that."