The media industry is in an era of the "BuzzFeedization" of everything and that's not automatically good for journalism, according to Kara Swisher, founder and executive editor of Re/code, the influential tech news and analysis brand.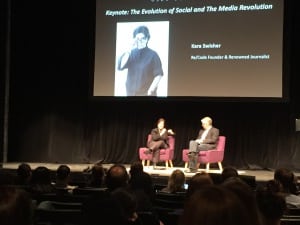 Speaking during a fast-paced and wide-ranging keynote Q&A at the SocialFlow "Roar 2016" user conference in New York on Wednesday, Swisher also warned media companies that partnerships with social networks benefit only the social networks, and suggested that only strong and ubiquitous media brands will ultimately win out.
The one-day conference featured a mix of media speakers from major brands like BBC, Mashable, and Time Inc. as well as executives from Social Flow, the New York-based company that provides publishers with real-time performance analytics and enables them to seamlessly push content onto social media. There were about 200 attendees, mostly from magazine media, SocialFlow CEO, Jim Anderson, said.
Swisher's presentation, entitled "Diary of a Mad Journalist (and Vaguely Gruntled Entrepreneur)" featured a lengthy list of new realities in media. The "BuzzFeedization of All" was first. She pointed to BuzzFeed's deeply data-centric approach, showing for example, how it did more than a dozen variations of a viral story that lasted about 30 seconds: The fascination with the left-side shark dancer during Katy Perry's 2015 Super Bowl performance. "They have people who sit there and they churn these things out," Swisher said. "They do A/B testing on a massive scale. It used to be data-informed journalism, but now it's data-driven journalism. It's a very different mentality of looking at things."
The downside, from Swisher's perspective, is that the approach calls into question whether crowd-sourced content creation creates good journalism. "I don't do it at Re/code. I think it's interesting and evil."
Media has changed in many other ways as well, Swisher said. A veteran of The Wall Street Journal, she noted how she "couldn't read a newspaper the other day. It's interesting how my brain was rewired so quickly."
Ubiquity is now essential too, Swisher said. "It will never turn off," she said. "It will only be more so. People who don't have this metabolism are not going to be successful—that's the way it is. Perpetual partial attention."
Other ways the Internet has changed media include wearable devices and geolocation, Swisher said. "Wearable devices around your face and head is coming," she said. "AR and VR—augmented reality and virtual reality—is real. You really have to think about how your content will be presented on this. It will be ubiquitous."
Swisher also said that geolocation-based publishing is a bit of a missed opportunity so far for media companies, but still a big opportunity. Peope will engage with content based on where they happen to be. Snapchat is really good at that, she said.
So this was a conference about social media. What did Swisher think about social-network partnerships like Facebook Instant Articles, which Facebook says provide added reach and better download performance? Swisher said that such partnerships remind her of the short story and "Twilight Zone" episode called "To Serve Man." Aliens come to earth seemingly with the best of intentions, and provide humans with food, technological advancements, and more. The human protaganist obtains an alien book called "To Serve Man." He manages over time to translate it. Turns out it's a cookbook.
"Social platforms are not your friend," Swisher said. "It is all for their benefit. They use content to improve their platform. They don't care what the content is. They say, 'Look at all your reach.' And you say, 'But I don't have any money from it.' It's a cookbook."