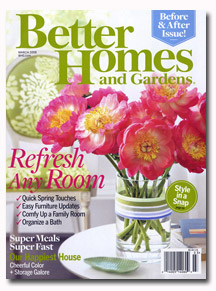 The Better Homes and Gardens Real Estate franchise—first announced in October 2007—is set to launch at the end of this month.
The franchise is the result of a 50-year licensing agreement with Realogy Corporation, owner and franchiser of the Century 21, Coldwell Banker and ERA real estate brands. As part of the arrangement, Meredith takes in commission on royalties earned from the franchise while Realogy and its franchisees advertise in Meredith titles and market subscriptions through its system. Realogy, in turn, gets selective use of Meredith's 85 million name database.
Representatives from Better Homes and Gardens Real Estate refused to comment, as today, according to the franchise's blog, begins its "media quiet period." A press conference is scheduled for July 23.
Dwell, the independent shelter title, entered the real estate market in 2003 when it launched its pre-manufactured "Dwell Homes" line, first through a design competition. In 2005, Dwell teamed with home builder Empyrean International to create its own series of "Dwell Homes."
Meredith's Publishing Group includes 26 magazines, of which Better Homes and Gardens is the largest. The company also owns 12 television stations, an integrated marketing and an interactive division and more than 450 books. In April, the company announced total revenues of $1.2 billion for the first nine months of fiscal 2008. Meredith's annual revenue in 2007 was $1.6 billion.
Last month, the company cut 120 total jobs, including 60 filled and 60 open positions, twenty of which were from its magazine division.