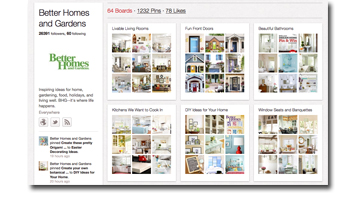 Pinterest has become a significant new social platform for magazines, particularly in the women's market. Meredith's Better Homes and Gardens has built a heavy presence on the site with almost 60 different boards aligned with the brand's various editorial categories in home and garden design. The magazine just launched a contest, called "Pin & Win" to drive further engagement with users.
To participate in the contest, users have to curate their own pinboard named "My Better Homes and Gardens Dream Home." Participants use images collected from the magazine's website, BHG.com, and have to use at least 10 pictures.
"As a visual brand where imagery and ideas are so central to what we do we are extremely excited about Pinterest. This is a tremendous complement," says Gayle Butler, Meredith National Media Group EVP and Better Homes and Gardens editor-in-chief.
The contest launched on Wednesday, March 7 and there have been 490 entries so far, says Butler, who adds that one entrant has 40 repins off of her board, which illustrates the sharing power of the platform.
The contest, as well as BHG's Pinterest presence in general, is promoted across the other social platforms and in the magazine. BHG's Facebook page features a tab dedicated to the contest's entry process. Winners get a cash prize.
So far, Butler says BHG's boards, which are dedicated to topics such as "Livable Living Rooms" and "Fun Front Doors," have about 25,000 followers with more than 2 million total board followers.
Butler adds that the visual nature of brands like Better Homes and Gardens is uniquely suited to Pinterest. And aside from the benefits of spreading content further afield to potentially new consumers, the user-curated boards give BHG unique insight into their interests. "Consumers invite you in to their interests, and to me that is really exciting and it creates a new interaction with the consumer and we can see what excites the them as well," she says.
Further, Meredith's research has shown that across the company's digital brands, particularly the tablet products, 40 to 50 percent of users are new to the brand and the company. So by aggressively participating in new digital platforms like Pinterest, the company is reaching out to a potentially new universe of customers.