BestVendor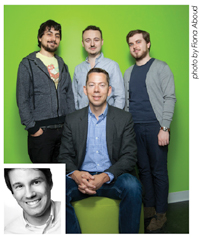 A b-to-b startup powering an online directory with a social recommendation engine to connect buyers and sellers that's aiming to serve the 'Fortune 8 million.' 
When you think of "directory", in b-to-b terms, you might think of the end-of-year print directories publishers put out for their respective markets. It's a model that's ripe for reinvention, especially online, and BestVendor, incorporated in January 2011 and beta-launched in November, thinks it's got a unique approach that works.
Early backers included Softbank Capital, SV Angel and Peter Thiel, along with founder Jeff Giesea, the founder and former CEO of FierceMarkets. In November, BestVendor secured a series A round of $3 million, co-led by RRE Ventures and Softbank Capital.
At its core, BestVendor aims to make the process of making purchasing decisions for small businesses easier by enhancing an online directory of products with a powerful social media recommendation engine.
"We're adding a layer of social discovery and recommendations on top of it," says Giesea. "Let's make the business directory social. And let's solve the problem of helping companies and people figure out the best thing to buy by making it easy to connect them to the experiences of other people."
The company is targeting the small to medium sized business market because it's a) huge, some 8 million in the U.S. and b) they typically don't have their own procurement offices, making the buying process particularly isolating.
That's where the social element comes in. "I use Amazon to figure out what book to read, I use Yelp to figure out what restaurants to go to, but there's no go-to place if I need new project management software. And yet peer recommendations and user reviews are the number-one and two drivers of purchasing decisions," says Giesea.
For now, BestVendor is building its directory on business software applications, but the model can support just about any kind of purchasing channel.
So, as users register with the site they set up profiles by listing their favorite apps and connecting with others in their network (you can sign in using your LinkedIn login information). A product database gradually grows along with user growth. The company is also working directly with vendors to build the product database.
As this activity grows, BestVendor is able to provide rich lead data back to suppliers. "It's really distribution and customer acquisition for vendors," says Giesea. "SMBs are hard to reach. If you're not one of the top 10 services, it's hard to get in front of customers. We want to level the playing field."
Revenue will come through enhanced vendor listings, referrals and reselling. But right now, Giesea is using the seed capital—enough for a couple years —for product development and growing the customer and product databases, each currently at about 5,000.
"We're not focused on revenue yet. If we're able to become the first place people go to when they buy, that's a hugely rich context to be able to monetize. And we don't want to corrupt that by being too sales-y up front."
Progress So Far
BestVendor secured a $3 million pre-emptive term seed for its series A round in December, months ahead of a first quarter 2012 timeframe, co-led by RRE and Softbank Capital. The site currently has about 5,000 users that have shared an average of 13 products each; and a database of 5,000 different products.
Meet the Author
---