BestVendor Sold to DocStoc

Deal adds software recommendation engine to DocStoc's small biz resources.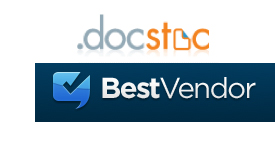 BestVendor, a recommendation platform for software for small business owners, has been acquired by DocStoc.
Terms of the deal were not released.
DocStoc is a membership-based website that offers a range of content and services for small business owners—resources for starting a business such as contract forms and templates, as well as educational content and licensing services.
The deal puts DocStoc into the software recommendation market. BestVendor members create profiles and share their favorite apps and software. The site's core premise is to essentially build a product directory that's driven by user recommendations and reviews.
As user activity grows, BestVendor, and now DocStoc, can provide all that lead data back to suppliers.
According to a message on BestVendor, the site's functionality will not be affected by the deal. And TechCrunch reports that the DocStoc essentially acquired the site and database, not the team, led by founder Jeff Giesea, who, incidentally, was also the founder of FierceMarkets.
BestVendor launched in in the spring of 2011 with about $600,000 in seed money, later raising $3 million in a series A round.
Meet the Author
---