As the Fourth of July arrives each year, it brings with it many traditions—cheap beer, grilled hot dogs, and quasi-illegal fireworks, to name a few—but it also provides an opportunity at the year's half-way point to reflect on just what's gone on over the last six months. And there is perhaps no visual medium that more accurately captures the emotion of our time than a well-executed magazine cover.
Like we have in the past, the Folio: team leaned on several of our brilliant friends in the design community to share their favorite magazine covers of the past six months, and to tell us what was so special about them.
Click any of the covers below for a full-size view.
---
—
The New York Times Magazine
June 6, 2018
Creative Director: Gail Bichler
Editor-in-Chief: Jake Silverstein
I'm not sure if "you get the magazine covers you deserve" is a saying, but I'm using it for this. Nothing comes close to the delight of seeing these simple but beautiful covers, all 24 of them.
Visually stunning, heart-string pulling gems. It could so easily have tipped toward pretentiousness, but the photography, typography and composition is spot on. Thanks for cheering me up, NYTM.
—
— Chris Deacon, Creative Director, Playboy
---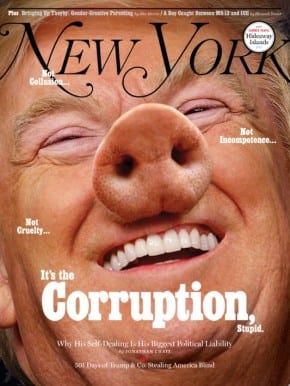 New York Magazine
April 2, 2018
Design Director: Tom Alberty
Editor: Adam Moss
Does it get any better than this?
Yes, it's likely that you'd have to be a hater to really enjoy this cover, but this one cuts to the heart of the matter with some simple Photoshop work. It is the essentials and only the essentials.
This cover is subversive. And the layering of visual storytelling is perfection. The cover lines aren't even necessary but they have been placed with care and restraint. There was no need to shout the obvious.
—
— Matt Strelecki, Creative Director, Meredith Agrimedia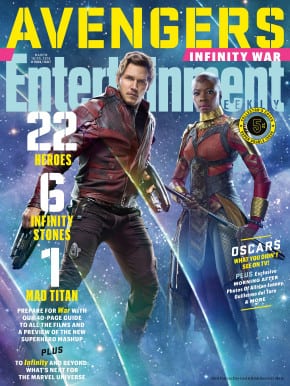 Entertainment Weekly
March 8, 2018
Creative Director: Tim Leong
Editor-in-Chief: Henry Goldblatt
This cover caught my attention as soon as I saw EW creative director (now executive editor) Tim Leong's Instagram post. Not because it was "The Avengers," but by the sheer ambition of the project. I love the collectable idea—get all the pieces and put together the set. It threw me back to opening a pack of Marvel trading cards with my siblings in the '90s, and stuffing them into the clear-sleeved sheets of our binders.
Beyond my personal nostalgia, what impressed me right off the bat was the amount of planning and editorial foresight that had to go into a project of this scale, which according to Tim's same Instagram post, took nearly a year. Not only do the covers come together as one cohesive visual with scale and drama, but each of the 15 covers is equally successful as a stand-alone. Love the creativity that's happening at EW, and even more impressive given it's a weekly. The cover is a nice reminder to not only push design, but also the way we create excitement and a unique experience for our audience.  
— Lesley Palmer, Art Director, AARP The Magazine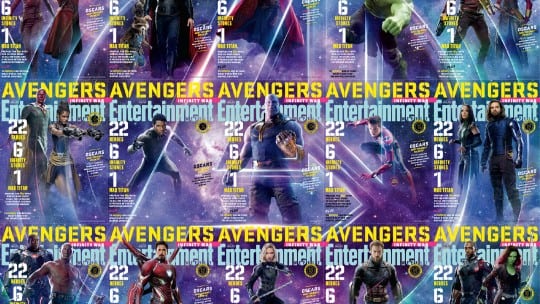 ---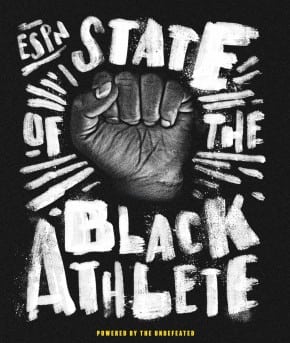 ESPN The Magazine
February, 5 2018
Creative Director: Chin Wang
Editor-in-Chief: Alison Overholt
A symbol of workers' and civil rights throughout the 20th century, the raised fist has appeared on countless posters. It even has an iconic sports connection in athletes, Tommie Smith and John Carlos, atop the podium at the 1968 Olympics. ESPN's cover represents the confluence of African American athletes and our current political climate. As with all great magazine cover design, this is a dramatic and eye-catching poster for the ESPN brand—standing out whether it's their oversized printed format or scrolling through an Instagram feed. The limited color palette is both dramatic and conceptual, alluding to the racial divide at play here.
Key to this cover, however, is the hand-lettering by Jeff Rogers. With the rawness and energy of punk zines and street art, it conveys the urgency and power of the cover topic—it even subsumes the ESPN logo. The energetic lines emanating from the distressed image of the fist—convey power but add warmth and humanism. These painterly strokes were deftly employed for the same reasons atop formal athlete portraits inside the issue as well. You can feel the artist's hand behind the painted lettering—this is no font.
Like the best ESPN covers, this was boundary pushing in both topic and execution.

— Dave McKenna, Art Director, 5280
---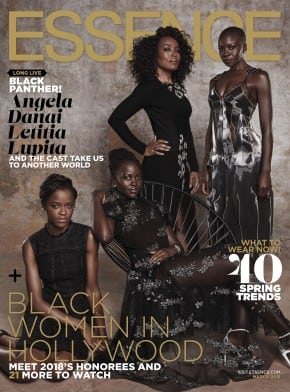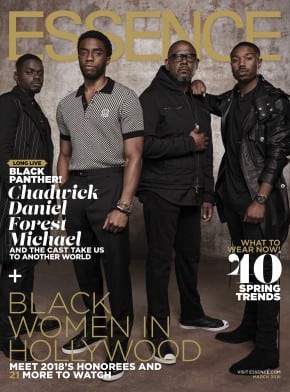 Essence
March, 2018
Creative Director: Ronda Thompson
Issue Editor: Vanessa DeLucca 
My favorite cover this year (at least so far) was the Essence March 2018 split-run newsstand edition in advance of the "Black Panther" movie (Essence did a solo cover of "Black Panther" star Chadwick Boseman for subscribers). Everything about this pair of covers was brilliant: the intimate and iconic photography (by Denis Leupold), the simple yet rich styling (by Ade Samuel), and the polished typography. Creative director Ronda Thompson and the Essence team produced a masterful visual treat that is rich with power, elegance, and style.
Splitting the cast into groups of men and women was a brilliant decision, which not only highlighted an important aspect of the movie, but gave well-deserved prominence to some of the actors—especially Danai Gurira and Letitia Wright, who could have been overwhelmed—or just left out—of a larger cast photograph. The overall black, white, silver and gold color palette enhances the images' regal feeling.
These are great covers which seem to connect to the Essence audience on multiple levels. Essence seems to be hitting a major groove with its covers of late, and is really rocking it, creating celebrity covers that combine newsstand appeal with social media power.
— Robert Newman, Creative Director, This Old House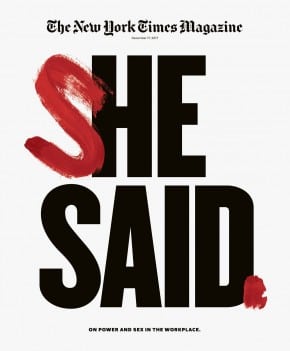 ---
The New York Times Magazine
December 17th, 2017
Creative Director: Gail Bichler
Editor-in-Chief: Jake Silverstein
On the morning of December 17th, I ran to the nearest Starbucks, grabbed The New York Times, cashed out, and like an excitable five year-old digging through a box of cereal, pulled and tossed sections of the newspaper until a blood red "S" peeked through. Best. Prize. Ever!
I love the simplicity and the boldness of this cover. It's empowering, relatable, and a statement piece that will be embedded in history, for sure.
The design is timely, timeless, and something I'd frame to pass on to future female generations in my family.
— Taylor Le, Creative Director, Pacific Standard
---
Vanity Fair
February, 2018
Issue Editor: Graydon Carter
Creative Director: Chris Dixon
There are times when a magazine becomes the story, rather than the gorgeous wallpaper in the background of the Netflix series of our lives. The moment that someone—not one of the people who witnessed and signed off on the cover—noticed that Reese Witherspoon may have had an extra leg, and Oprah for sure had three hands, was one such time. The big deal was not that a retoucher made a mistake, and no-one clocked it. It was that readers already knew that magazines routinely and often excessively retouch. This merely illustrated that sometimes we do it amusingly.
I chose Vanity Fair's very mildly infamous cover because it might be the one that cracks open the door to a less illusory industry, by a fraction of an inch. Or, the moment that we look back on and laugh that magazines even tried to assemble some of their cover stars in one place for a shoot.
The term "Photoshopped" is generic, and dismissively thrown at magazines like handfuls of cheap confetti. I was on a photo shoot years ago, in which a leopard had been hired at the photographer's request. When it turned up, it was fat (presumably because it needed to be well fed in order to not eat magazine staff). "We can Photoshop it thin," was the retort. In the end, people assumed the post-production-thin cat was either stuffed, or entirely Photoshopped. In short, no matter the cast, the accessories, or the location, readers think we fake it all anyway, and shrug.
What's my point? When I gave my father a copy of Gladiator, knowing his favorite movie is Anthony and Cleopatra, he watched it in unimpressed silence. "I know it's not real," he finally said. "When Liz Taylor entered Rome on that sphinx, they actually made it."
I'm not advocating a retouching/composite-free era for magazines—heaven knows readers deserve escapism—but the trend of simpler, plainer, more honest covers, might be a good direction for bolder magazines to explore.
— David Gray, Creative Director, Out & Lollipop
---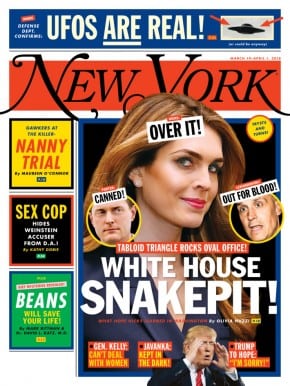 Editor's Pick:
New York Magazine
March 19th, 2018
Design Director: Tom Alberty
Editor: Adam Moss
If the purpose of this roundup was to acknowledge outstanding overall achievement in design over the past six months, I'd probably opt to recognize either Michele Outland's Bon Appetit or Leo Jung's California Sunday Magazine. But since I can't possibly choose any one of those covers that I enjoyed the most, I'm going with this brilliant take from New York magazine—which I still haven't managed to throw out, despite the fact that it's resided on my kitchen table for some three months now.
I admire any magazine that's willing to step outside of its typical aesthetic confines in order to capture a particular moment in time—given its biweekly publishing schedule, New York has more room to experiment than most—and this cover executed the idea perfectly.
"The scary thing was how many of this issue's stories lent themselves to this treatment," said editor Adam Moss. "Headlines have rarely been so fun to write."
While efforts from the left to avoid "normalizing" the current administration often wax hysterical, this tabloid-style cover treatment accurately conveys the absurdity of our times in a manner that's not only clever, but poignant and impossible to ignore on newsstands. At least it was for me.
 — Greg Dool, Senior Editor, Folio: