Best Life

A Men's Health luxury off-shoot that relaunched after a three-year hiatus.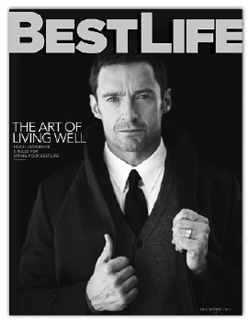 Economic indicators reach beyond dry data and convoluted graphs. That is to say that a number of environmental factors can suggest which way the economy is moving. Keeping that in mind, the relaunch of a magazine whose core focus is to showcase a luxury lifestyle and advertise luxury goods could indicate things are moving in the right direction. That was publisher of Men's Health Ronan Gardiner's hope when he spearheaded the return of Rodale's Best Life in 2012.
"There is definitely a newfound optimism in the market, it's a cautious optimism, but it's definitely there," Gardiner says, adding, "I don't think it's just the luxury end, I think we are seeing increased optimism across the board."
Best Life was a well-received brand from 2002 to 2009, however the downturned economy forced Rodale to make a tough decision and suspend the print product. "Luxury was pretty much the first category to be hit, and hence Best Life became unsustainable," Gardiner explains.
The narrative changed in 2012, however. Rodale began to see a shift in the market and noticed the demand for luxury advertising was once again returning. "Thankfully we hadn't been away long enough for people to have forgotten us, both on the advertising side and the reader side. So we were able to seamlessly reintroduce the product to a market that was ready to receive it," Gardiner says.
Discovering a void in the market was the first step in relaunching Best Life, the second was identifying precisely who its target audience is and which advertisers should reach those readers. Gardiner describes his readers as "the new man" and says they are "a slightly more mature audience, [who is] very performance driven, affluent, successful, and ambitious." Keeping that in mind, Rodale was able to tap several luxury brands to advertise in its October 2012 issue, brands like Ralph Lauren, Cartier, Hugo Boss and Lexus, and others that were looking for a new vehicle to promote their products.
Unlike many startups, Rodale had the advantage to leverage an already-familiar brand that could help spur and champion a successful relaunch. "We've always kind of thought of Best Life as a space Men's Health readers would graduate to. When you think about the Men's Health guy he is certainly a little younger, still in some ways finding his place in the world, he's very ambitious, very forward thinking, he's forging his career, he's finding his style, he's hopefully developing great relationships. The Best Life guy hopefully has all of that and more," Gardiner says.
Rodale was also fortunate to have many of its existing operative pieces still in place. The company kept the brand alive as a channel of Men's Health, and Gardiner says that many of the same editors and creative thinkers are still at Rodale, and were eager to get Best Life back on newsstands.
PROGRESS SO FAR…
Best Life plans to continue as an annualized October publication that will have a three-month shelf life. Response has exceeded expectations from both advertisers and readers, and the publication's rate base is expected to grow. Rodale distributed 300,000 copies of its 2012 issue nationwide, and expects to reach or exceed its 50 percent sell-through goal once the 2012 numbers are actualized.
Meet the Author
---