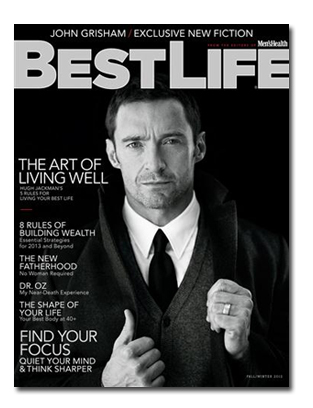 Editor's Note: This story originally appears on FOLIO: sister site minonline.com
Three years after folding (or putting on 'hiatus') its men's lifestyle title, Rodale brings Best Life back to newsstands this week. Scheduled to stay at retail for the coming quarter, Best Life revives much of the content mix that made it a favorite among many affluent male readers for years: celebrity, style, high end goodies. In the premiere issue contributors include John Grisham, Dr. Mehmet Oz, MSNBC host Joe Scarborough, ABC's Christopher Cuomo and Weight Watchers CEO David Kirschoff. Hugh Jackman is the cover star.
In addition to high profile authors, the issue will have its familiar blend of style and advice. One article will advise on managing a college fund. Another feature tips on getting a fast car without enraging your wife. There is the requisite health content this being a Rodale pub that is aligned with Men's Health.
A tablet and iPhone edition of Best Life have been released, both using the Adobe platform that Men's Health also leveraged for cross-device deployments. Best Life's last issue was May 2009, and it left the market with a circulation of more than 500,000, Rodale tells minonline. The print run this time is 300,000. Two issues are planned for 2013 pending sell-through of this issue.
Returning as Best Life editor-in-chief is Stephen Perrine (a longtime lieutenant to MH editor-in-chief David Zinczenko as Men's Health Books publisher/editor-in-chief), and he tells us that calls for the much-loved magazine's return have come from both readers and advertisers. He says there has been a resurgence in the magazine's target market.
"The menswear business, for example, has been growing much faster than women's wear," he says. "We believe that men more than ever are looking for guidance on how to manage their careers, their finances, their families and still have time to enjoy their own lives as well."
Perrine is expecting the new channels of distribution across the digital editions to play an even greater role now in helping the brand reach its target since its "hiatus" that started three years ago.
The return of Best Life is another indication that print publishers are seizing opportunities at the high end of the market. Recent research has suggested that magazines are most resilient in their power and readership among the most affluent audiences.