Best Life Boosts Rate Base Again

Sixth circ increase since 2004 launch.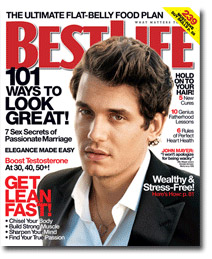 Economic trends may be putting downward pressure on marketing spending, but some magazines are doing well enough to keep advertisers in the fold by raising circ levels. Rodale's men's lifestyle publication Best Life, for one, will receive its sixth rate base increase since its 2004 launch with the February 2009 issue, jumping from 500,000 to 550,000.
In support of this milestone, the publisher says that the monthly magazine's year-to-date ad pages have increased 7 percent and revenues 23 percent versus same period 2007. In 2008 the magazine attracted 63 new advertisers. And on the newsstand, where, according to figures supplied by Circulation Management magazine, unit sales of audited publications dropped a staggering 5.9 percent, Best Life managed to buck the trend with 19.4 percent growth in single copy sales.
At launch, the magazine had a rate base of 200,000, then jumped up by 100,000 each in 2005 and 2006 before settling in to 50,000 increases in 2007 and 2008.
The magazine will also launch in Russia and China, bringing the title's international reach to a total of six editions—part of an aggressive international program that the publisher says grew 14 percent in revenues for the first half of 2008 compared to first-half 2007.
The magazine's advertising success mirrors the growth of Rodale overall. The company reported a second quarter advertising revenue increase of 8.3 percent.
Meet the Author
---