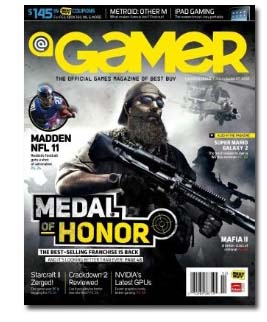 The growing market of gaming enthusiasts has another print magazine. Retailer Best Buy has partnered with publisher Future US to launch @Gamer, a magazine that will be available by subscription and distributed to all Best Buy locations in the U.S.
According to Best Buy home entertainment group senior vice president and general manager Chris Homeister, the companies intend for @Gamer to become a "trusted go-to resource" for the gaming community. The magazine will cover new and popular games and gaming hardware.
The magazine will be headed editorially by editor-in-chief William O'Neal and executive editor Andy Eddy. Future's Chuck Osborn, group editor-in-chief of Future Plus, and Julian Rignall, Future Plus' editorial director, will oversee O'Neal and Eddy.
In addition to the editorial, @Gamer will offer subscribers exclusive savings offers toward gaming purchases at Best Buy, the company says. @Gamer will publish 10 times annually and will carry a $5.99 cover price. An annual subscription costs $19.99. However, subscribers also must be enrolled in Best Buy's free gaming loyalty program, the Reward Zone Gamers Club, in order to redeem the @Gamer offers, the retailer says.
In the gaming market, Future US already publishes several magazines, including Edge, Nintendo Power, PC Gamer, Official Xbox Magazine, Playstation: The Official Magazine and World of Warcraft: The Official Magazine.