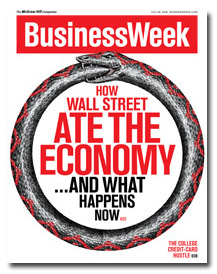 There have been a lot of fire engine red magazine covers littering newsstands lately. Why? "There are a slew of recession clichés to choose from," Andrew Horton, Business Week's art director (and former FOLIO: art director) told me. "A red line pointing downward is a popular one," in addition to bold colors (usually red), and visual metaphors of tightening, lessening and falling, he said.
While many magazines have embraced these clichés, the best recession covers, Horton confirmed, were simple and direct. "We only used red on our ["The New Frugality," below] cover because we needed it to pop." But even as far back as April 2008, when, he claimed, Business Week forecasted the recession, Horton has tried to keep cover images fresh and unique.
Other magazines haven't been so creative or effective. Horton cited the Economist's whirlpool cover ("What's Next?," below) as confusing and a bit too muddy, although he considered the majority of the magazine's covers to be spot on, recession-based or otherwise.
"The Time cover with the photograph of the great depression ["The New Hard Times," below, left] was awesome," said Horton. "I actually got sad looking at it—that's how you know it's good."
"Eventually, magazines run out of visual metaphors [for recession]," he said,
"But I always say that I will never put a bear or a bull on a cover."
Other publications that have visually tried to tackle the hemorrhaging economy include Forbes, Fortune, Time and Newsweek.
So, should readers plan to see more recession covers in the coming months? Horton predicted that as overt recession covers begin to dwindle, more consumer covers with a focus on low holiday spending will emerge.
Here, some of the best (and worst) of 2008's economic recession covers.