An integrated database can help companies streamline their customers' experience, uncover new product opportunities and be the catalyst for a successful lead generation program. But most importantly, it can give publishers a chance to highly target their customers based on their preferences. In order to do so, however, the right behavioral data needs to be collected and organized.
PennWell Publishing has multiple databases, including a brand database that has over 5 million names and houses all of the information on individual customers that interact with its brands—magazines, e-newsletters, tradeshows, whitepapers, virtual events and the Web. The company is also in the process of creating a marketing database that combines multiple magazines serving a single market—for example, the petroleum market—to get a better feel for cross activity within each market.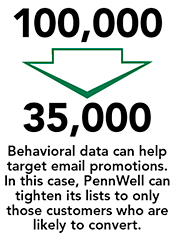 "We don't have as much data on Web activity as we'd like, but that is the direction in which we're headed," says Gloria Adams, SVP, audience development and book publishing. "But I do know who's registered [on the Web], which Webinars they've attended and which whitepapers they've downloaded. This allows us to do much tighter targeting and figure out what the proper audience would be for certain products. The more info you have, the more finely you can target."
Most of the process of collecting the data resides at PennWell's fulfillment provider. Anyone that signs up for a product is on file with the fulfillment company and the rest of the data from PennWell's Webinar and whitepaper providers are imported. The manager of each brand is responsible for importing these names at least once per quarter. The files are then coded accordingly.
The marketing group works closely with the audience development team to determine how the customers will be targeted and promoted to, but the AD managers are the only ones that have access to the names for promotional purposes. "We like to keep access to the database controlled to be sure that the information is being interpreted correctly," says Adams.
Having this behavioral data allows the company to reduce the amount of e-mail that it sends to its customers, leaving behind the blanket-coverage, batch-and-blast strategy. "There are a lot of publishers out there that are still in the mindset that the more e-mails you send out the better," she said. "And when we started, we had to e-mail every single person on file or that had a certain demographic to get them to subscribe. But the more data we collect, the tighter we can make our lists. So instead of sending messages to 100,000 people, we can send messages to just 35,000."
Adams added that the company plans to go a lot deeper with behavioral targeting once Web site info, such as the specific pages customers are viewing and how much time they spend on those pages, becomes available. "But right now, as e-mail becomes the primary medium for contact with our audience, the more we can highly target them, the less likely we're going to make them angry," she says. "If you provide relevant content, customers won't opt out, but if you start sending them too many e-mails or information that's not relevant to them, they'll get upset."