This year the publishing catchphrase is "marketing services" (with of course, a strong social media component). Depending on your definition, magazine publishers have always offered "marketing services," but today that increasingly has come to mean going beyond custom publishing and targeting "below-the-line" budgets ranging from direct marketing and lead gen to consumer or trade promotion, events, search engine marketing and search engine optimization, video production, social media, even market intelligence. Increasingly, publishers are bypassing the agencies to work directly with the brand on the marketing message.
"Media has fragmented to such a point that as consumers, we can choose whatever way we want to receive information," says Joe Pulizzi, founder of custom publisher Junta 42 and the Content Marketing Institute. "Look at what a marketer does today—they're involved in social media, Webinars, events, blogs, e-newsletters. . .that's exactly what a magazine like FOLIO: does. The only difference for the most part is how marketers monetize content. The marketer monetizes it through the sale of product and services. Publishers monetize it through paid content or sponsored content."
This article looks at how publishers are defining marketing services and gradually ramping up to offer the same, from large consumer publishers such as Hearst and Meredith to smaller b-to-b players as well.
Front of the Pack
Hearst and Meredith are among the forefront of marketing services. For them, it's a balance between acquiring the necessary tools and talent, as well as ramping up internally.
Martin Reidy joined as president of Meredith Integrated Marketing (MIM) in September 2009 from Publicis, where he was president and CEO of Publicis Modem & Dialog. MIM has grown its capabilities with the acquisition of agencies that specialize in Web and digital development, such as mobile marketing agency The Hyperfactory. Today, MIM represents approximately 20 percent of Meredith National Media Group's $1+ billion in revenue.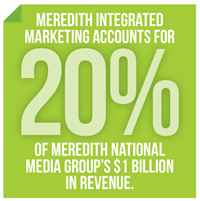 MIM has taken over customer relationship management (CRM) programs for more than 200 marketers including brands such as Kraft, Wells Fargo and Chrysler. With Kraft, the relationship began with custom publishing and now includes four magazines such as Food & Family. Through Kraftfoods.com, MIM helped Kraft develop a database of 8.5 million opt-in consumers, which it taps into for a weekly e-mail campaign. "We helped launch their mobile application, the iFood Assistant, on the iPhone and the Blackberry," says Reidy. "Community development, blogger outreach and content distribution are key."
Meanwhile, Hearst is developing marketing services programs most notably with its June acquisition of digital marketing service provider iCrossing (at $325 million, one of the largest media deals of 2010). According to Hearst, the deal gives it "extensive global marketing capabilities," including paid search, Web development, search engine optimization, data analytics and mobile/social marketing.
The new division—called Hearst Marketing Services—will be led by Hearst Magazines senior vice president Matthew Petersen. "We chose digital marketing services to focus on after an exploration of a number of marketing services because we felt it had the highest growth potential and dovetails nicely in areas Hearst has embarked on in the digital arena," says Petersen. "The relationship may start where you're doing one or two of those services then expand, but more and more we're being invited into digital agency of record assignments in an RFP situation or proactive basis."
Hearst is in the process of building out the full range of marketing services. "This is going to remain a standalone business and our job is to support that," says Petersen. "At the same time we are having the teams—iCrossing sales teams and other teams—across Hearst work together and collaborate. That doesn't mean we have to turn the organization upside down at all. There's an education process about the new tools in our toolbox and it needs to be done in the real spirit of collaboration."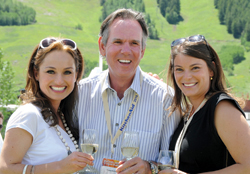 American Express Publishing's Food & Wine has offered marketing services as part of the sales process without calling it "marketing services" for more than decade. "It's what wins us business and what's helped us survive the recession," says vice president and publisher Christina Grdovic. "How would I define it? Providing whatever the client needs."
That ranges from events (such as working with the Barbados Tourism Authority to produce its first Food & Wine and Rum festival this November) to video creation and market research.
Food & Wine will also bring in outside partners to help execute marketing services. An integrated effort with San Pellegrino required some back-end research and Food + Wine hired an outside agency. With other efforts, Food + Wine has partnered with Time Inc. Corporate Sales and Marketing.
Building Out Market Intelligence
Business-to-business publishers such as Ziff Davis Enterprise (ZDE) and ALM have created business intelligence groups that serve a wide variety of functions for clients.
For ZDE, that's broken into three areas: market intelligence, integrated programs and marketing services. With market intelligence, the research team works with market experts and market strategists.
"We've merged the two together to field larger studies of the database, larger studies of the market and combine all of that with 'feet on the street' kind of insights rolled into one package that serves longer term relationships that are independent of an advertising campaign with us," says Josh Heitsenrether, senior vide president of strategic services.
Marketing services includes a wide grouping of offers. "We have the ability to offer content services and analysis and we have analysts who can offer lead modeling and scoring and roadmaps for how to take leads down the sales path," says Heitsenrether.
Integrated programs offer direct execution services for clients. All three parts build off services that ZDE offered previously (in some cases even before its spin-off from Ziff-Davis Media).
"For some time before I got here, the enterprise was involved in a variety of demand generation services," says ZDE CEO Steve Weitzner. "The outcome of that was you're dealing more deeply with the client and they start asking for other things, which could range from people saying, 'my budget has been severely cut, can you take over this function' to becoming an actual marketing department for a client."
In one case, ZDE was engaged by a vendor to conduct a sales training and market analysis program, which involved doing primary research and then creating sales training materials, conducting the training and assessing the client's sellers. "This was all done within the client," says Heitsenrether.
Six years ago, ALM started its research business by taking stock of what it had and simply putting the data in one place and making it searchable. Data today is available in two ways: by subscription and by selling individual data points on a transactional basis. Today there are two separate groups within ALM Legal Business Solutions—one that handles licensing while the other offers business intelligence, which could include fielding a compensation report of 15 different legal positions.
Subscriptions are offered at three levels: A base level provides access to all of the current year's content for $5,000 per year for the first user, with additional users paying 10 percent of that. The premium subscription offers current content plus archives for $12,000 for the first user. ALM also offers Premium Plus, which includes benchmarking information and additional surveys such as the Survey of Welfare Economics, and Law Department Metric Survey, at $15,000 for the first user. Transaction fees range from $199 up to $1,200.
"We sit astride the wall—part of what we do is edit, part of it is business-side," says Kevin Iredell, head of ALM's Legal Business Solutions division.
Digital Levels The Playing Field For Smaller Publishers
But while Meredith and Hearst have the luxury of buying ready-made marketing services agencies, that doesn't mean there isn't an opportunity for smaller players as well.
"There are huge opportunities for smaller publishers, and it might actually be easier for smaller publishers to mobilize around marketing services," says Pulizzi. "You could create a blogging service that could be up and running in five days whereas a bigger company might take months to get internal approval. The days of the five-year plan are done. Most smart publishers are amending their business plan every quarter."
MyNorth Media, a regional publisher serving north Michigan, is offering digital services such as Web site development and design and high definition video production to clients. Dowden Health Media—a unit of trade publisher Lebhar-Friedman—offers a variety of marketing solutions, including custom publishing and Web site and multimedia development for the healthcare industry.
While he is quick to point out that custom print programs are still very strong ("Hospitals are very comfortable with the ROI that print generates"), Sid Gokhale, president of Dowden Custom Media, says, "Below-the-line services are a big part of the future for publishers. You have a captive audience of customers all in need of custom marketing services. We will see more publishers providing full service to a customer base that traditionally would have gone to agencies."
While publishers continue trying to monetize social media (and straight-up advertising and sponsorship continues to fall short), social media may offer the lowest barrier of entry for smaller publishers to start offering marketing services.
Atlanta-based Network Communications Inc. (NCI), a publisher of real estate guides and information, has built a significant business providing blogging and social media services to advertisers in its core markets.
The company's Community Sherpa is a monthly subscription service for creating individual blogs or a network of blogs within select communities, including ongoing content creation and management, community news and photograghs. More than 30 pieces of hyper-local content are also posted to the community blog, Facebook page and Twitter account each month. "Their 'Sherpa' product provides an easy way for customers to use content marketing as a way to enhance their online presence and generate leads," says Bill Pryor, social media and content specialist (and a former senior VP at b-to-b publisher PennWell and custom publisher The Pohly Company).
Business-to-business publisher WATT—which serves three distinct markets in global pet food manufacturing, global agro-business and North American woodworking—sees social media as a huge opportunity. (So much so, that, for the first time,  the publisher is putting social media and marketing services in its 2011 media planning guides.)
"We feel we have the strongest social media platform in our respective markets," says director of e-media Jeff Miller. "We have clients interested in social media but they don't have the bandwidth to do it internally."
For one client, WATT provides a package that includes SEO as well as "ghost blogs" in which editors interview project managers, then write up a blog post under the client's brand based on that conversation. WATT charges $100 to $200 per blog.
 
How Marketing Services Differ as a Business
Marketing services are a different business from publishing, even custom publishing. "It's a tougher business," says Pulizzi. "In traditional publishing, you have a lot more control over what you do. If you miss a deadline, it's primarily an internal issue."
On the bright side, both revenue and profit margins have the potential to be higher than magazine publishing. "You could be looking at 35 percent or 40 percent margins," says Pulizzi.  "I always get this backlash from publishers, who say, 'If we sell more ads,  that's an 80 percent margin for me.' Yes, because all your costs are baked in. Once you sell so many ads in a print magazine, and then you sell four more, you're just adding to a form, and that's fantastic. It's almost all profit. But at the end of the day, if you're doing 30 percent as a publication, you're in wonderful shape. With custom or marketing services, a 30 percent to 35 percent margin with 15 percent net is looked on as just OK. That's a good business to be in."
For Hearst, business models vary by specific discipline. "We may have a retainer relationship based on SEO assignments; we may have a commission-based structure when doing SEM; we may charge by time and materials when redesigning a Web site," says Petersen, who adds that a "comfortable margin" should be 20 percent or higher. "There is no standard business model, we're really basing it on the needs of the customer and particular assignment."
The mindset of publishers having to say they are in this business is perhaps the biggest change. "Everybody is fighting for this thing called content marketing: traditional publishers, custom publishers, Web development firms, content strategy firms, agencies," says Pulizzi. "PR thinks it's theirs too. Everyone says, 'the money is going here, what do we do?'"
Organizing Around Marketing Services
On one hand, magazine publishers already possess the intellectual and logistical capital to offer marketing services. "Every publisher who reads Folio: could probably do it," says Pulizzi. "They have a lot of the talent already. Smart publishers are saying, 'Instead of just dropping people, how can I shift direction?' A production person on the magazine now becomes a project manager for the marketing services team. You're just adapting the module and putting more people on the money and fewer people where the money is deteriorating."
Even with a larger company like Meredith, many of the first steps came from making small adjustments. "They already had a lot of the execution," says Pulizzi. "The second thing is data. Did they have someone on the data and analytics side who can really communicate back to marketers about how the plan is working? People in circ development now change to audience development and then they change again to research and analytics. Meredith can do almost anything a full-service agency can do and they'll tell you they can do it better because they have the audience as well."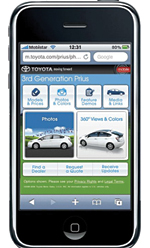 The main stumbling block for publishers is that this is a different type of business and management needs to set the tone, according to Pulizzi. "You need C-level people to lead the way and say, 'This is how we're doing business now.'"
However, building these services may require hiring people with backgrounds outside of media. "We have to rethink the model right down to the two basic pillars of the publishing business: employees and content," says Weitzner. "Although everyone has gotten past circulation as the model to audience development, you have to take another step to audience marketing. One of the basic ingredients in engaging the audience beyond simply looking at a Web site or reading an article in a magazine is a 360-degree view of how we touch these people. We need people who are experts in not just content or in a specific content domain but how the audience consumes content and what it requires to attract them and keep them there."
ALM's licensing group has about six staffers compared to about a dozen in the legal intelligence group. "We have content managers and database managers, a dedicated sales staff that sells it separate from the circulation department (who used to do it) and telemarketers who sell the transactional business," says Iredell.
When it comes to marketing services, salespeople should focus on a handful of accounts, not several. "The glue is who is on the account services team," says Pulizzi. "ZDE is not going out and selling 100 accounts, they're selling five that are $1 million+ accounts. They're doing what it takes to make these people happy. That's an agency approach to the business."
Many publishers have developed digital programs on a fly-by-night basis but that definitely won't work with marketing services.  "We're a 93-year-old, fourth generation company," says Miller. "The last thing I want to do is go out on a limb and suggest a marketing project and fail, and lose the confidence of someone who's been with the company for 50 years on the display side. We started gaining traction because we have a portfolio to show people. We have a huge Twitter following in all three markets. We have a very active Facebook community. We're a Web-first media company. If you're going to get into this and think of it as a real revenue stream, you better have the portfolio to back it up."
Do Marketing Services Conflict with Editorial Mission?
But if the publisher now has direct access to the marketing message, what happens to the traditional standards of editorial independence?
"This whole idea of church and state is made up," says Pulizzi (somewhat facetiously). "Our job as publishers is to disseminate the best, most helpful and accurate information. As long as we continue to do that and we're transparent, we do our jobs. Transparency is key."
Pryor says that careful navigation around church and state is necessary. "These services will need to co-exist with core brands and content being monetized through traditional means," he adds.   
McGraw-Hill considers the topic of marketing services to be a nomenclature issue, since they've offered similar services for generations. However, editors are becoming more targeted in both their traditional outlets as well as client-oriented work.
"Many of these services we've never viewed as publishing solutions," says Glenn Goldberg, president of McGraw-Hill's Information & Media segment. "But increasingly there is a need for edit and there's a question of how you define that. We will never mess with the independence and integrity of the edit process. There are some immutable truths to doing editorial properly. People are making big ticket decisions based in large part on edit, and you want the best people offering an independent view."
Having said that, Goldberg continues, "We need to deliver value. With AviationWeek, for example, we have wonderful journalists who know the business, but we also know there are certain needs those customer segments have. We won't tell editors what to write, but based on that knowledge there are needs that customers want written about. The days of editors saying 'I want to write about this' are numbered."