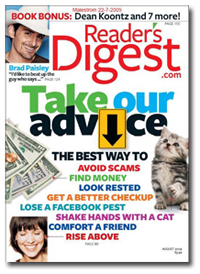 The Reader's Digest Association Monday became the latest magazine publisher weighed down by severe debt to file for bankruptcy protection. RDA said it reached an agreement in principle with a majority of its senior secured lenders on terms of a restructuring plan to reduce the company's debt from $2.2 billion to $550 million, and expects to file a pre-packaged Chapter 11 petition for its U.S. business within the next 30 days.
RDA's lender group will also provide the company with $150 million in debtor-in-possession financing which, it said, will be convertible into exit financing upon emergence from Chapter 11.
"It's a positive when a company files a pre-packaged Chapter 11 case—it shows that management and many of its lenders have come to an agreement," a financial observer who wished to remain anonymous told FOLIO:. "Big problems arise when an agreement isn't reached. It damages assets. Decisions take forever to be made. Companies wind up spending more money on attorneys than they can invest the business.
"This will allow (CEO Mary) Berner to do what she was hired to do," the observer added. "Instead of focusing on monthly bank presentations she can focus on the business."
Investment Wiped Out
Taking the hit here is private equity firm Ripplewood Holdings, which acquired RDA in 2007 for $1.6 billion. According to the agreement, RDA's senior lenders—including Bank of America, JP Morgan and GE Capital—will exchange a "substantial portion" of the company's $1.6 billion in senior secured debt for equity and provides a transfer of ownership of the company to the lender group.
All of the members of the RDA's board of directors, except for Berner, have resigned.
"Filing for Chapter 11 is far from the ideal course for the private equity group," the financial observer said. "I assume that in reducing RDA's debt by 75 percent that Ripplewood lost almost all of its equity in the deal."
The agreement also allows for up to $100 million in new investment. Those investors—either existing bondholders or new groups—will be able to receive to a 20 percent stake in the company upon its emergence from bankruptcy protection.
On February 19, ratings agency Standard & Poor's lowered its corporate credit rating for RDA to CCC from B-. On Monday, the agency lowered the publisher's rating again to D.
Ripplewood representatives did not immediately return a request for comment.
Moving Forward
Filing for Chapter 11 does not signal the end of the Reader's Digest Association. In a statement, Berner said its voluntary pre-arranged Chapter 11 filing is "the best type of bankruptcy to be in" and is "strictly a balance-sheet issue" with no mass layoffs or salary cuts planned.  
According to a slideshow presentation to its public lenders, called The Faceplan: Fast Forward, RDA's total leverage is 15.9X. The restructuring agreement, the company said, reduces its leverage to 4.0X.
Moving forward, according to the presentation, RDA's plans include leveraging and expanding its global footprint, moving toward a multi-channel affinity and to execute "transformational" cost savings initiatives.
Globally, magazine advertising makes up about 8 percent of RDA's overall revenue mix. Subscriptions account for 27 percent, books make up 35 percent and music and videos make up 25 percent. In the U.S., magazines make up the lion's share of revenue at 74 percent. Books represent 13 percent, schools are 10 percent and music and video make up about 3 percent of revenue.
"It is hard to find a magazine publisher that is not troubled right now," said another financial observer. "RDA will survive but will most likely be scaled down to a profitable core."