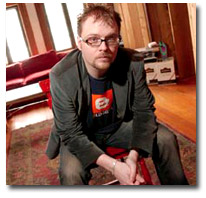 I've done them. You've done them. Every magazine has done them: the year end list. Other than creating them—and claiming not to like them—I had never really given these ubiquitous lists too much thought until several years ago, when I ran across—and became totally addicted to—a Web site called Fimoculous.com that collects and organizes an annual mega-list of such lists. Since then—perhaps because we discovered we not only share the same first name, but also several mutual friends—I've gotten to know the list-guru behind Fimoculous.com, Rex Sorgatz. When not collecting year-end lists or being a weblog pop-culture maven, Sorgatz is a noted online media developer, most recently executive producer of MSNBC.com.
Over the years (he's been doing list-of-lists since 2001), Sorgatz's year-end list has become highly anticipated by the pop-culture, indie music and film community. And while the lists he aggregates are from a wide variety of sources, I've always been struck by how the majority seem to come from magazine Web sites. Recently, I e-mailed Sorgatz to ask him specifically about magazine year-end lists and to see if he had any hints for editors who compile them.
Here's our Q&A exchange:
Q: I used to dislike year-end lists — but can't keep from reading them. Can you explain why?
A: I actually hate lists too. I find them reductive, simplistic, and cliche. But they're also elegant, consumable, and personal. I sometimes describe lists as miniature utopias — little pictures of a reality that we wish existed. With all the crap that the culture industry creates in a single year, it comes as such a relief to actually celebrate some of it with a "Best Of" list.
Q: While you have year-end lists from a wide array of places, magazines seem a solid source. Other than being an easy-way to fill column inches, why do you think this is so?
A: Several factors are at work, but certainly the way lists deliver packets of insta-nostalgia contributes to their ubiquity in magazines. Also, nothing helps a publication define itself more than making a list of cultural objects (or sports teams, or candy) that it wants to celebrate. Like it or not, lists have become the ultimate indication of personality.
Q: What advice would you give to editors for compiling lists? Are there any tips you can pass along after reviewing thousands of them over the years?
A: Two things come to mind: 1. Go esoteric. We don't need another list of the best books of the year; however, we did need a list of the best book covers, because no one else has looked at the industry this way. 2. Add personality. Some of the best lists every year are those that are composed by celebrities. That could mean asking Stephen King or Margaret Cho for their favorite music of the year, but a better approach is probably to find micro-celebrities in your industry whose opinion people would care about.
Q: What are some of your personal favorites of lists from magazines?
A: There are too many to name, but some of this year's favorites have included New York magazine's use of multimedia to recap online video, the cross-genre quality of Sports Illustrated's Best Trades/Executive Decisions, Art Forum's annual use of specialists to recount music and film, and because I think lists are ultimately forms of prediction, The Futurist's Top Ten Forecasts. Oh, and I suppose Mr. Skin's annual Top 20 Nude Scenes, to remind me what I missed this year.
The end of the year isn't here yet though, so there's still a lot of room for surprise.
Q: What is the list you most look forward to each year?
A: The word-related ones intrigue me the most. Yahoo, Ask, and Google always target the zeitgeist by visualizing the most-searched terms on the Internet. There's an elegant, mathematical quality to the lists that seem to get at some sort of greater collective memory.
Add to that the dictionary lists that come along this time of the year. The OED, for instance, chose locavore at its "Word of the Year." Other contenders included tase, mumblecore, and bacn, none of which my spellchecker yet recognizes, which illustrates how of-the-moment lists can be.
Q: Do you have a favorite list of all time?
A: The Bill of Rights. It totally trumped The Ten Commandments.