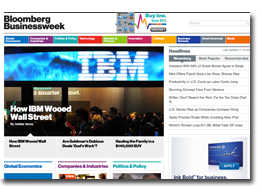 After relaunching its print product two years ago, Bloomberg Businessweek recently debuted a redesigned website to reflect the changes readers are seeing in print. A CMS overhaul, upgraded workflow and refreshed home page are all part of the final product.
"The mission was really to provide a platform to give content producers, photographers and designers a showcase for the content. We also wanted to create a content production cycle that was more of a web-centric time cycle: ready for multiple daily updates, as opposed to a weekly update," says Brad Rickman, product lead with Businessweek.com. "It was a temporal issue that we didn't have back-end infrastructure and the CMS to support a rapid production schedule. The rendering layer also didn't offer a place to showcase the kind of story telling our editors and designers are doing."
The process began in early 2011, with the Businessweek team migrating Web operations to a new CMS. The new system is mostly custom, but uses WordPress functions as well. After a six-month CMS transition, the next eight were spent designing the new site. "We've touched on everything from the database infrastructure, to the application, to the surface layers that we use to deliver and syndicate content," he tells FOLIO:.
Another challenge of the website relaunch was maintaining a balance between new user needs and lifetime reader expectations. This process is still underway. "The website has been in existence since the AOL days; it has an online legacy and there are still users who still have an interest in that old content. We wanted to get in a position where we were looking forward and still able to maintain our relationship with that history," says Rickman.
The overhaul went live at Businessweek.com last week. The home page now integrates more photos, data and visual cues seen in the print product. Rickman explains that there is less content on the home page, but the current stories represent a more diverse pool of content.
"Now that we have a more visually rich page, it obviously has a lot more weight to it. We wanted to provide a speedier experience, so we had to be more rigorous on the technical side to make that all happen," says Rickman. "The new CMS is constructed in a way that allows it to change and grow without having to do a lot of revisitation. That's something we didn't have before."