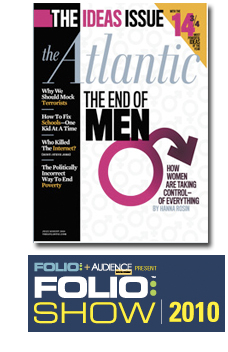 The Atlantic, a 153-year-old magazine, suffered from a protracted decline in revenues and rising costs starting in the 1960s. A dramatic multi-platform overhaul of the brand starting in 2007 has put it back on track to profitability. In his keynote address today at the FOLIO: Show, Atlantic Media president Justin Smith said The Atlantic is projected to have a profitable fourth quarter and a "multi-million dollar" profit in 2011.
The goal, said Smith of the new management team that owner David Bradley organized in 2007, was to "take a brand that lost millions and turn it into something of lasting stability and value."
The comeback was structured around creating a solid brand identity; a digital-first strategy; building a marketing services operation; expanding live events; and maintaining a relentless focus on hiring top talent.
According to Smith, The Atlantic's brand had suffered from a lack of definition. His team decided to take the same approach that consumer goods manufacturers do. "People tend to talk about editorial and not the brand," said Smith, who added that the media industry tends to lack brand managers, instead relying on top editors for brand management. "Editors-in-chief are not equipped to do brand management," he said.
An examination of the points where the magazine was at the top of its game lead to the "Brave Thinking" tagline that defined the brand's "essence." That tagline, said Smith, became the company's north star. "If you have this organizing idea, it simplifies so much. It creates an organizational sense of discipline that's very powerful."
Digital First
Smith also pushed for a digital-first strategy. He stressed that print is not dead, but taking this approach allowed the company to unlock its grip on traditional revenue sources. Importantly, the Web site's overhaul was set up as an insurgency on the print brand. "If our mission was to kill the magazine, what would we do?" said Smith, who added that a digital competitor was going to do that anyway, so they did it themselves.
For the year 2010, Smith is projecting that digital will account for 39 percent of the brand's revenue.
Atlantic Media also set up a marketing services division, which follows along with efforts by Meredith and, more recently Hearst, which bought digital marketing firm iCrossing. "The question for us on this side is how do you differentiate yourself from the ad networks?" said Smith. "It's the idea of being a marketing services company where you do something very deep and interactive with the audience."
Smith has also built up the company's live event platform, and noted this is an area where consumer publishers often fall flat. "Consumer publishers don't view events as a profit center," he said. Accordingly, live event revenues have doubled over the last two years.
Talent, said Smith, is "the key differential to success," and he spends about 55 percent of his time on talent-related issues. "Nothing is more important to business success than your standards for talent."
Throughout the brand overhaul, said Smith, $2 million in costs were removed from the operation. "The products are better and we have a smaller staff and more recognition," he said.