In June, private equity investment firm Wasserstein & Co. announced it was acquiring ALM Media from Apax Partners. It would be the second time Wasserstein has owned the company, which it had built through a series of acquisitions.
Apax put ALM on the block in April and the deal closed July 31. Terms were not released at the time and ALM was strangely quiet about the transaction, with any press being handled by Wasserstein.
More recently, a source with knowledge of the transaction said the sale price reported by the New
York Times—$417 million—is accurate, which puts the EBITDA multiple right around 8x based on $55 million in earnings.
Those figures fell short of the reported $500 million Apax was seeking, but it's still a big sale—albeit 34 percent less than when Apax bought it from Wasserstein in 2007. Especially for a company with legacy roots that has tried to move quickly into a more digitally-oriented business model. Plus, the deal reveals where private equity still finds value in such operations and allows ALM to begin fueling its growth with more capital.
During the economic downturn in 2009, ALM became an independent company following a split from Incisive Media. Apax dropped its stake in ALM from 71 percent to 51 percent and the Royal Bank of Scotland took over the remaining 49 percent in a debt-for-equity swap.
FOLIO: sat down with ALM CEO Bill Carter, who joined the company in 2012, for an exclusive interview about the sale and what's in store for the company going forward.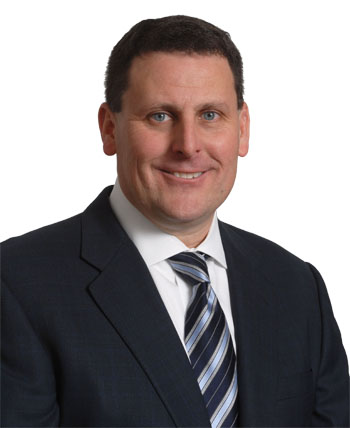 FOLIO: How did the deal come together? Why did Wasserstein decide to double-dip?
Bill Carter: [Apax] acquired us in 2007 and the deal was reaching the end of its lifecycle. Because of the 2009 restructuring, there were restrictions put on what the company could do and it limited our growth opportunities. It prompted the board to have a discussion on what was right for the company and they began looking for interested parties.
Wasserstein emerged because they had the deepest understanding of our revenue streams and they appreciated our challenges.
FOLIO: What goes into valuing a B2B media company these days and how is that different from just five or six years ago?
Carter: I think the markets are pretty good right now in terms of raising debt, especially if you have a business that's performing well.
Buyers want to look at the stability of your revenue streams and there's certainly a bias toward subscription revenues and events.
There is still a factor that goes into any B2B company that's being looked at right now and that is how well they held up during the 2008 cycle. Everyone acknowledges a revenue swing. But how big was that swing?
We swung a lot less and stayed relatively profitable. We have cyclical and counter-cyclical revenue, which stabilizes things. Scale plays a factor, too.
FOLIO: A couple years ago you told FOLIO: you were working on improving ALM through customer growth and renewals, expanding the sales organization and adding more product technology like RivalEdge. How have you evolved that thinking since then?
Carter: The biggest initiative that guided us over the last three years has been corporate subscriptions. Historically, ALM had sold to individuals, not to law firms. In 2012, we did an analysis at the top firms and what they were spending with us. We had breadth, but not depth. One lawyer would route his subscription to 20 other lawyers, but it was an individual sale.
We set as our goal the top 850 law firms—they should each have one license to all ALM's products. And we could tailor that content to how they wanted it.
To do that we had to re-engineer marketing and sales—bring in sales experts who knew how sell licenses.
We also had to completely rebuild the infrastructure. We grew up as a roll-up of acquisitions. Everyone had their own groups. We standardized the websites and print products, but more importantly we standardized the taxonomy. So now we can serve up the content that's relevant to that user.
This was the area that got Wasserstein excited. It cracked a problem they saw in 2005, 2006—how do you get that younger reader?
FOLIO: We're talking digital now, aren't we?
Carter: Yes. When we looked at the lawyers who had the subscriptions and also looked at the online usage we had many more people getting our daily alerts. But they were hitting the paywall. The associates don't have the ability to make that purchase. So we went to the corporate librarians—younger attorneys are getting the alerts but now they're reading the content.
And that's why Wasserstein won [the deal]. Wasserstein got that immediately, the other bidders didn't understand it as much.
FOLIO: How have the site license sales been performing?
Carter: We've had double-digit growth on corporate site licenses. Our circulation counts are way up and our circulation revenue is way up overall. Circulation is all of our subscription brand products, separate from our information solutions, which are also subscription-based.

FOLIO: How are subscriptions breaking down between print and digital products?
Carter: The large firms are all taking pure digital. To counter that we also revamped how we sold to individuals—the smaller firms and attorneys. We have a metered paywall that allows you to read five articles before you hit it, then you get an offer based on what you've been reading. We've had a significant increase in individual sales and 40 percent of those customers are taking a print/digital bundle from us. So we're still selling a good bit of print.
FOLIO: How have you invested in your technology to support these initiatives?
Carter: We use as much off-the-shelf as we can. We're willing to pay a little more for a premium product. That's allowed us to easily expand. And going forward it's becoming easier to pull it out and replace it if it loses its best-in-class. We're much more in the buy camp, but that doesn't apply to everything. We do some of our own custom development.