Bauer Takes Beating at Newsstand

Us Weekly, OK!, also reported single copy losses.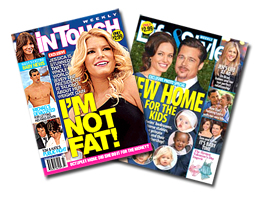 Celebrity escapism isn't enough to save magazines anymore.
Bauer's celebrity magazines In Touch Weekly and Life & Style took some of the most severe hits at newsstands in the second half of 2008.
Newsstand sales at In Touch were 834,492, plummeting 32 percent from 1.23 million during the same period in 2007, according to the Audit Bureau of Circulations' FAS-FAX report released today. Single copy sales of Life & Style fell 31.3 percent to 461,969, down from 672,463 during the second half of 2007.
It should be noted, though, that In Touch and Life & Style both upped cover prices by 50 percent, from $1.99 to $2.99, in Novemebr 2007.
The other big decliners were Wenner Media's Us Weekly, which saw single copy sales slide 20.7 percent during the period to 796,669, and Northern & Shell's OK!, which reported 490,417 single copy sales, down 10.8 percent.
Not all the news was dire. Time Inc.'s Entertainment Weekly (up 6.6 percent to 50,437) and People (up 3 percent to 1.47 million) posted modest single copy sales gains for the period.
EW, which carries a ratebase of 1.73 million, does not rely as heavily on newsstand sales as its fellow celeb titles, with only about 3 percent of sales coming from the newsstand.
Meet the Author
---