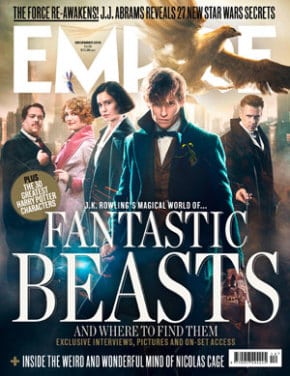 If the U.S. filmmaking industry is truly under siege from the scourge of pirates and streaming enthusiasts alike, Hollywood seems to believe that mass-appealing, blockbuster entertainment is the antidote. From the near-monthly succession of comic book reboots to the endless stream of franchise-extending installments, it's clear that studio execs are betting on consumers' willingness to shell out $10 – $15 on tickets to continue to sustain the medium for the immediate future (spoiler alert: the fifth Pirates of the Caribbean and eighth The Fast and the Furious films are set for release in 2017).
Bauer Xcel Media, the digital arm of German-based publishing giant Bauer Media Group, appears to agree. The company announced today the online launch of UK-based mainstream film enthusiast magazine Empire in the U.S., marking the 27-year-old title's first official presence in North America.
"There is nothing like Empire in the U.S. today, which is made for fans who want in-depth and behind-the-scenes access to their favorite movie and TV franchises," said Christian Baesler, president of Bauer Xcel Media, in a statement. "In addition to our current U.S. fans who have been following the UK edition, we expect that organic audience growth in the U.S. will be fantastic."
Baesler's assessment notwithstanding, Empire's digital expansion moves it into a crowded space devoted to covering the film industry, including well-funded legacy titles like Entertainment Weekly, Variety, and The Hollywood Reporter, as well as established digital natives such as Cinema Blend, Screenrant, and /Film.
Baesler tells Folio: that what will ultimately set Empire apart is its commitment to in-depth, behind-the-scenes reporting and its well-established relationships with both studios and Hollywood talent alike.
"The UK team was already operating globally by its nature," says Baesler. "They had exclusive access to productions and actors and had relationships with all of the studios around the world. The content already has global appeal."
Empire receives an average of about two million unique monthly visitors to its digital properties in the UK, and currently draws a "sizeable U.S. audience" of film enthusiasts, both professional and amateur, according to Bauer.
"On the UK website, without doing anything outside the UK, we already had 30 percent of our traffic coming from the U.S. So we had an immediate opportunity for traffic, and the content was already relevant," adds Baesler.
The launch follows a familiar model for Bauer Xcel Media, which just weeks ago relaunched an online-only version of UK-based lad mag FHM in the U.S. in response to surging from North America to the brand's UK site.
"Bauer Xcel Media has a proven formula for launching and growing magazine brands online, which we plan to apply to FHM," said Baesler at the time.
Baesler, who has grown Bauer's digital team in the U.S. from a one-man operation in 2012 to a group of more than 70 today, has already taken a similar approach to several of the company's formerly newsstand-centric titles such as InTouch and Life & Style. Bauer's U.S. brands, which as recently as 2012 had almost no web presence, now receive nearly 30 million unique monthly visitors, according to the company.
Part of Bauer Xcel's ability to fluorish in the U.S. market despite being a relatively small operation is its near-total commitment to programmatic advertising, an approach which Baesler says contrasts starkly from the company's strategy in the UK, Germany, and Australia, where direct sales drive the bulk of advertising revenues.
Baesler says Bauer will continue seeking opportunities to digitally expand its brands to new markets, but will maintain the company's selective approach depending on the region.
"The benefit for FHM and Empire was that they were already known to the U.S. market. For the most part, we plan to launch more global brands, in the U.S. and also in other countries."
Empire has been published monthly in the UK since launching in 1989. Its coverage, which also includes arthouse films, TV, and video gaming, typically coalesces around big-budget, male-oriented mainstream films. It, along with FHM, Closer, and several other titles were sold to Bauer by UK-based EMAP in late 2007.