Battle Over Online Privacy Heats Up

Trade groups leapfrog the Hill with publication of guidelines.
The Venable Consortium, a group of media industry associations lead by AAAA, IAB, ANA, DMA and backed by counsel providers Venable LLP, recently took a significant, proactive step in the release of its "Self-Regulatory Principles for Online Behavioral Advertising." The publication is important because it's a direct response to a growing call for stricter control over the tracking of consumer behavior online.
Up to now, publisher and advertiser trade groups were primarily concerned with keeping the FTC on the side of self-regulation, which it largely has been. Lately, however, lawmakers have become more vocal about introducing legislation that threatens the industry's self-regulatory status.
Congressman Rick Boucher, a Virginia Democrat and chairman of the Communications, Technology and the Internet subcommittee, has made clear his intention to introduce legislation to bolster consumer privacy protection. "I have previously announced my desire to work with Chairman Waxman, Chairman Rush and Ranking Members Barton, Stearns and Radanovich to develop legislation this year extending to Internet users the assurance that their online experience is more secure," he said in his opening statement during a joint hearing on behavioral advertising with the Communications and Consumer Protection Subcommittees last June.
A Shift Away From Self-Regulation?
Currently, the Internet publishing and advertising industry is operating in a self-regulated environment, but online behavioral tracking is being used to ever-growing degrees—from large ad networks of unaffiliated sites to specific vertical networks and down to single-publisher Web site networks and "related content" applications.
"Part of what we're doing with that cookie is enhancing the consumer experience," says Pam Horan, president of the Online Publishers Association, which, along with the MPA and ABM is part of the Venable Consortium. "It's to make sure we're delivering the right content. The advertising piece of it is very important, but so is educating the lawmakers on the fact that the technology is also used for a better user experience."
Congressman Boucher would like to see an opt-out practice introduced where consumers can opt out of first- and third-party use of their information—and then be able to opt in to third-party use.
"If you had a first-party opt out, that would be a publisher-consumer relationship," says Horan. "In that scenario, that Web site would need to provide the consumer with an option."
Introducing that option, goes the argument, could severely undermine an advertising business model that, says Horan, supports 90 percent of online revenues. "At the most extreme, a requirement for opt in could have a huge impact on the business model. Our ability to serve ads is the foundation of our ability to serve that model. It could have a significant impact."
Currently, consumers can opt out via Web sites such as NetworkAdvertising.org. The FTC, for starters, would like to see something more comprehensive. The "Self-Regulatory Principles" guidelines will attempt to take that further by educating consumers via more industry-developed Web sites and marketing campaigns, as well as "new links and disclosures on the Web page or advertisement where online behavioral advertising occurs."
The guidelines are the first step in bringing the advertising and content industries together on a defined set of principles. Next, says Horan, is a set of guidelines for the enforcement of those principles. All of this, she says, is aimed at proving to the FTC and the Hill that the industry is serious about protecting its self-regulation.
SIDEBAR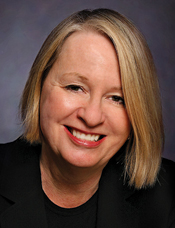 What You Need to Know
Ruth Day, chief privacy officer at UBM [pictured], notes the privacy principles published by the Venable group focus on unaffiliated, third-party ad networks. Publishers are considered first-party trackers, and the FTC is clear on that distinction and has essentially backed off any further privacy regulation of first-party tracking of consumers due to the clear, direct relationship. However, many publishers do display third-party online behavioral ads on their sites. For those of you, here's what Day recommends you keep an eye on.
Read the Guidelines—If you work with a third-party ad server, familiarize yourself with the principles to see what they mean for ads that are displayed on your site.
Know Who You're Dealing With—"Publishers need to know whether a third-party ad server displaying ads on its Web sites is part of a behavioral online network, with an appropriate representation in the contract or insertion order," says Day.
Who's Responsible for What?—"Logically, the third-party ad server needs to be the party responsible for notice because it is the entity collecting information from the visitor to the publisher's Web site," adds Day.
Meet the Author
---