Battle of Editorial Credibility vs. Sponsored Content Continues

I'm not sure it has to be a bloody mess, though.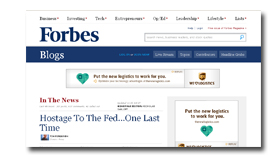 Over the last couple days, I've heard a lot of talk about crossing the editorial line as it relates to publishers accepting sponsored content.
At day one of AdweekMedia's Social Media Strategies conference, which I attended, Huffington Post chief revenue officer Greg Coleman said the site sees itself as a "social media ad agency." He said sponsor-generated content appears on the site (I take his word on that, although I haven't seen any) and that it's marked as such. He was asked to talk about how much these sponsored posts are generating for the Huffington Post, but he declined to comment.
Then last night, I read the PBS/MediaShift piece about Forbes pushing advertorials as part of its major renovation and design online. Forbes' soon-to-launch Advoice is expected to allow advertisers to post blogs to Forbes.com—for a price. According to chief product officer Lewis DVorkin, Forbes editors will in no way be associated with the paid blogs, and Advoice is just another piece in the site's social-focused structure. "In this case the marketer or advertiser is part of the Forbes environment, the news environment," he told Ad Age recently. "Marketers need to reach the audience. This is where publishing is headed."
The MediaShift story goes on to reference a GigaOM report that suggests that Forbes could risk losing reader trust by posting sponsored blogs, especially near the site's original editorial content, and trigger a "giant ethical morass." "Ironically, blurring the line between advertising and editorial content can actually damage the brand that those advertisers are so eager to rub up against, defeating the whole purpose of the exercise," GigaOM's Matthew Ingram writes. "It's not surprising that Forbes is looking for alternative ways of raising revenue, but it should be careful not to sell its soul at the same time."
He's right—it shouldn't come as any surprise that Forbes is trying to squeeze more money from its advertisers, especially since the print magazine is reporting a 9.6 percent decline in ad pages through the third quarter (last year, pages fell more than 30 percent). And, besides, publishers have been running advertorial sections in print forever. They're also continuing to expand into marketing services.
As it hasn't launched yet, I haven't seen Forbes' Advoice, but let's put down the picket signs for a minute. While I'm not a proponent of ceding edit space to advertisers (I'm an editor—why would I be?), I am a fan of publishing companies making more money if the execution is right. (In fact, FOLIOmag.com's blog page features "NXTBLOG," which links back to posts written by Nxtbook, one of our advertisers.)  What's the problem, from a consumer perspective, as long the sponsored content is clearly labeled and doesn't eat up space that should dedicated to hard news?
Beyond the careful edit execution, the real trick will be to successfully monetize it. I asked Forbes what the cost structure is for advertisers who want to post to Advoice. Is it a per-post fee or do they pay a one-time fee and get to post as often as they want? How many advertisers has Forbes signed on so far, and how many does it aim to have over the next six months or so?
A Forbes spokesperson said the company isn't doing any more interviews about Advoice until its launch date gets closer (about mid-November). We'll keep you posted.
Meet the Author
---