Consumer business magazines had a rough go in 2009. Even more than their general interest counterparts, business titles that are mostly reliant on advertising dollars get pounded when economic markets slide, jobless rates soar and marketer budgets evaporate.
Collectively, the business and finance magazines tracked by the Magazine Publishers of America's Publishers Information Bureau saw ad pages fall nearly 30 percent on average through the first nine months of the year. Some losses were so severe that casualties were unavoidable. According to online magazine database MediaFinder.com, the business magazine sector was second behind only regionals for the highest number (16) of closures during the year. Among the fallen were BusinessWeek Small Biz, Condé Nast Portfolio and Fortune Small Business.
So, with the carnage of 2009 now in the past, will the dust begin to settle in 2010? Or will the consumer business magazine battle continue?
"The rules of engagement seem to have shifted; how to play the game, how to win, what winning even means—all are undergoing massive changes," former Harvard Business Review editorial director and Fast Company co-founder Alan Webber wrote in a recent blog post on FOLIOmag.com. "It's not just a matter of finding a way to stay in business; it's a matter of having a purpose for being in business in the first place."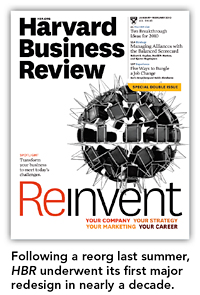 The Business of Reinvention
At nearly 90-years-old, Harvard Business Review says it figured out its purpose in publishing: delivering content to a targeted, "premium" 230,000-plus audience. After conducting a pair of in-depth research/survey projects about who its readers/users are, the magazine last year began instituting a series of changes to help reinvent itself and to solidify its relationship with that audience.
In April 2009, the publisher reorganized into a "customer centric" model called the Harvard Business Review Group that united editorial, sales and marketing for HBR, book publisher Harvard Business Press and its Web sites. More recently, with its January/February issue, HBR launched its first significant redesign in nearly a decade and said it will begin publishing 10 times with two double issues in 2010, down from 11 issues last year. It also combined havardbusiness.org and hbr.org.
"We learned [from the surveys] that our audience tends to break into two distinct groups: people who are looking to be inspired and people who are looking for guidance on how to improve their work life and themselves as managers," says HBR group publisher Josh Macht. "The projects helped us to get closer to our readers and understand that they value us for the big ideas but also that they need a variety of formats and ways to reach us."
Another important key (one that's been in place for years) is HBR's lack of reliance on advertising dollars. Macht says HBR's revenue make-up is approximately 75 percent from subscriptions and e-commerce, and 25 percent from advertising sales. The magazine currently offers an annual print/online sub package for $140 on average.
Investing in Quality
Bloomberg LP, the media giant owned by New York City mayor Michael Bloomberg, acquired 80-year-old BusinessWeek late last year from McGraw-Hill for the surprisingly low sum of $9.3 million. But perhaps the price wasn't as surprising as some thought. The ailing magazine was said to have lost $43 million in 2008 and to be carrying $30 million in debt. To help ease some of that burden, Bloomberg reportedly laid off more than 100 BusinessWeek staffers.
Under Bloomberg, BusinessWeek is expected to realize a positive upside if it can marry what Webber calls its "historic capacity for smart essays and clever idea packaging" with Bloomberg's multi-platform approach. "As good as we think our products are, the fact is that most of them are only seen by the 300,000 or so subscribers to the Bloomberg terminal," says recently appointed BusinessWeek chairman Norman Pearlstine.  "To get that type of reputation you need a much broader audience and BusinessWeek is a way to do that."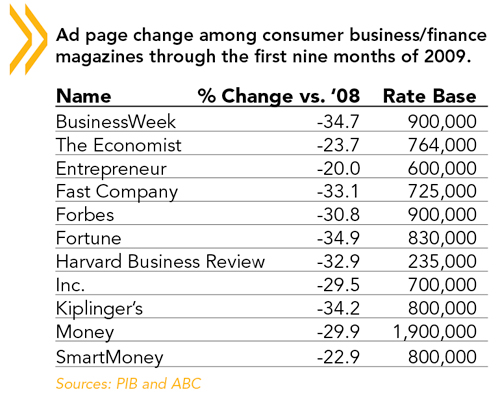 Pearlstine says that while Bloomberg obviously wants the magazine to be profitable, there were other reasons why the company acquired it. In terms of the print product, he says BusinessWeek in 2010 will see its editorial folio increase from 55 to 66, increase its paper weight from its current 28 lbs. and "remain committed to being a weekly."
"Our goal is to produce a richer magazine that is increasingly international by augmenting the product given the resources at Bloomberg News—namely 146 bureaus in 72 countries," Pearlstine says. "Any turnaround is long term and involves the magazine and Web site."
Another title with a new(ish) owner is Worth, which relaunched last summer after being acquired by Sandow Media in 2008. With a new design and $18.95 cover price, Sandow refocused the magazine, targeting an invitation-only readership in specific regions with a minimum net worth of $2 million.
Sandow CEO Adam Sandow says Worth has consistently grown revenue "issue by issue" since the relaunch, and will add sales and marketing positions in 2010.
It also doesn't hurt to be backed by deep pockets. Fast Company and Inc. publisher Mansueto Ventures, which is owned by billionaire Joe Mansueto, also is investing in its magazines this year. At Fast Company, management is focused on frequency, paper quality and rate base. "We're investing in expanded newsstand distribution, in live events and digital resources—meaning more edit and business staff," editor Bob Safian tells FOLIO:. "Now is not the time to cut."