Barry Levine

executive editor, National Enquirer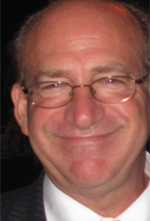 The tabloid gossip sheet has transformed itself into a Pulitzer Prize-worthy news source.
Wait, who's in the running for a Pulitzer Prize? The National Enquirer? What's going on here?
What's going on is that a media brand that was once known as a joke, a tabloid gossip sheet, has spent 15 years breaking major news stories and very often driving the media conversation on important stories. Most recently and most spectacularly, the Enquirer broke the Tiger Woods infidelity story and the John Edwards love-child story.
The net result has been a realization in the mainstream media that the Enquirer is in fact a good source of investigative journalism, and this month, when Pulitzer Prizes are awarded, it might be among the winners. Indeed, when asked to describe the core values of the Enquirer, former editor-in-chief (and current Radar Online executive VP) David Perel said this: "I can speak only for myself and when I ran the Enquirer. At its most simple, most distilled form it was this: Get the big story. Get it first. Get it right." Spoken like a true lion of the great age of newspaper journalism.
Still think the Enquirer doesn't represent a throwback to the old days when newspapers represented public advocacy and hard-nosed information gathering, and not the cynical corporate-margin seekers so prevalent today? Then check this out: "The Enquirer is different from many (not all) other news organizations in that it still does old-fashioned reporting," says Perel. "And by that I mean door-knocking, stakeouts and more. It gets its reporters out of the office and onto the streets to get stories. In this age of shrinking editorial budgets, that is all too rare."
Executive editor Barry Levine describes the Enquirer's mission going forward: "Our day-to-day attention will continue to focus on the scandals of our reader's favorite television and movie stars, supplemented by an interesting mix of body image stories along with compelling human interest exclusives. The Enquirer will continue paying top dollar for exclusive tips that can be independently verified through our reporting system."
VITAL STATS: The Enquirer broke both the John Edwards and Tiger Woods stories. The Enquirer continues too pay tipsters for verifiable tips.    The Enquirer is considering opening a new bureau in Washington, D.C.
BACK TO THE 2010 FOLIO: 40 MAIN PAGE 
Meet the Author
---