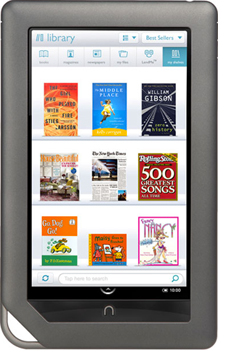 Bookseller and newsstand provider Barnes and Noble had a strong first quarter with its digital content, sales in that channel quadrupled. Though digital sales have had some tenacious growth, sales at retail decreased by more than $25.7 million or 3 percent.
Total sales for fiscal first quarter 2012 were up 2 percent to $1.4 billion and sales through the company's website, BN.com, saw a 37 percent increase to $198 million. The business says a strong demand for its digital eReading devices—the NOOK, NOOK Color and the NOOK Simple Touch Reader—have had a high demand and helped the company's overall success for the quarter.
Barnes and Noble retail sales went from 28.8 percent of the company's gross margin to 29.5 percent. Barnes and Noble website sales went from 3.7 percent of the company's gross margin up to 27.3 percent compared to the same period last year. Gross profit from Barnes and Noble's website went from $5.3 million in the first quarter last year to $41.5 million.
"Our NOOK eReaders and applications continue to be cited as the finest digital reading products on the market, with the new NOOK SimpleTouch Reader recently rated a the best eReader," says Barnes and Noble CEO William Lynch, according to a news release. "The company is encouraged by the progress achieved against our strategy and believes in our plan to continue to appropriately invest in the massive digital opportunity, while delivering strong earnings before interest, taxes, depreciation and amortization (EBITDA) growth this year."
The NOOK business increased 140 percent in the first quarter to $277 million.
Though the company's EBITDA did improve by 23 percent in the first quarter of 2012 it still represented a negative figure—EBITDA went from -$30.7 million in July 2010 to -$23.5 million in July 2011.
For the first quarter, the company reported a consolidated net loss of $57 million.
"Our strategy of growing market share in the exploding digital content business while maximizing cash flow and EBITDA from our retail operations is paying off," Lynch says in a news release. "We plan to continue investing in the significant growth areas of our business, and in fiscal 2012, we expect to see leverage as our digital sales growth is projected to exceed the growth of investment spend. The return on investment is expected to increase in future years, as readers purchase increasing amounts of digital content on the platform we have built."