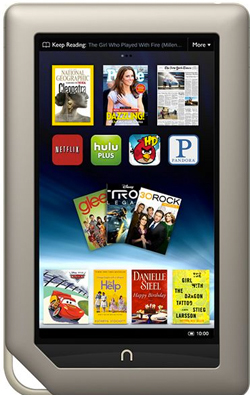 Another tablet contender is unveiled: Barnes and Noble's NOOK Tablet. The Tablet is retailing for $249, and the price point on the original NOOK Color will be bumped from $249 to $199. The new device is being marked in the industry as an alternative to the Amazon Kindle Fire, an eReader introduced in late September that is available for $199.
According to reports, the NOOK Tablet looks similar to the NOOK Color, though it is slightly thinner and lighter. Storage room increases from 8 GB to 16 GB, and the device has a microSD slot with capability to support an additional 32GB. Other updates include a Texas Instruments dual-core 1 GHz processor and 1GB of RAM.
The NOOK Tablet also has video capability, which is supported by 1080p HD; battery life is pegged at 11 hours. The device is available for pre-order, and will officially hit the market on November 18.
Magazines welcomed the Kindle Fire, with publishers such as Conde Nast, Hearst, Meredith and Bonnier announcing selling partnerships with Amazon upon its debut. With Kindle supported by Amazon, and the NOOK by Barnes and Noble's extensive retail library (and its Newsstand), publishers are hoping consumers will find a comparative experience to the market-dominating iPad.
While publishers still share 30 percent of purchase revenue with Amazon through Kindle Fire sales, the conditions of user data ownership is said to be more lax than Apple's collection of customer information. Gregg Hano, SVP of corporate sales and the Technology Group at Bonnier, told FOLIO: at the time of the Fire's debut, "They will be sharing email addresses of customers, but not sure what more they will share with publishers."
In its strategy to digitize its entire magazine portfolio, Time Inc. recently announced Real Simple will be available only for the NOOK Color in the month of November, with complete digital integration beginning with its December issue.
Perry Solomon, VP of digital business development with Time Inc., tells FOLIO:, "The decision to go first with Barnes and Noble was a reflection of the fact that we think the NOOK Color is a great device—based on our research and talking to our audience it seems like the NOOK Color has been well received amongst our targeted demographic and our audience."
Solomon also says B&N has been proactive in marketing Real Simple both in-store and online.
Consumer Education
Over at Meredith, the publisher realizes having content available on tablet devices (including the new NOOK Tablet) is simply not enough. "What we've seen and learned is that in our mass market, women are intrigued by the tablet," says Liz Schimel, chief digital officer with Meredith. "But they have been struggling with if they really need it, and if they can really afford it at the price point that has been out there."
To that end, Schimel says Meredith is discussing the availability of its brands on tablets in all its messaging to subscribers. In addition to this, Schimel says, "We're also working with edit teams to include, wherever possible, editorial content around technology and what's out there. [We then become] part of the dialogue as these women make their minds up to what is the best solution for them."
The upcoming holiday season will most likely have a positive impact on tablet sales, according to Schimel. "I think we have all the right circumstances here: great devices at great price points, and brands highly motivated to speak to their consumers. Advertisers are getting interested in this new audience," she says.