In Bankruptcy, Reader's Digest CEO, CFO Get Sweet Financial Packages

Mary Berner to receive $125,000 monthly salary during Chapter 11 proceedings.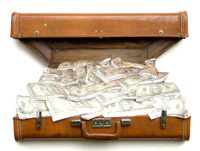 According to documents filed this week with the Security and Exchange commission, the Reader's Digest Association—in connection with its reorganization plan—agreed to changes in CEO Mary Berner's and CFO Tom Williams' base salaries and severance payouts.
During the Chapter 11 process, Berner will be paid $125,000 per month in base salary. Meanwhile, Williams will receive $68,200 per month.
Multiplied out over 12 months, Berner's new agreement would put her annual salary at $1.5 million. According to RDA's last 10-K report, Berner in fiscal 2008 was earning a base salary of $600,000 (and was eligible for an annual guaranteed bonus of $500,000). That doesn't include performance incentive bonuses that could have been as much as 400 percent of her base salary—although I'm sure they were nowhere near that much.
In case Berner isn't offered her job back when RDA eventually emerges from bankruptcy protection, the company has agreed to up her severance package to $2.2 million, plus any earned but unpaid salary, vacation pay and/or unreimbursed business expenses. That's up significantly from the $1 million severance package she agreed to when she signed on with RDA in 2007.
Williams agreed to receive a severance package worth $1.2 million.
Berner and Williams were smart. Even after putting together a pre-packaged plan of reorganization, you never know how things will shake out after taking it to a bankruptcy court, or if you'll still have your job afterward.
Meet the Author
---